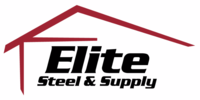 Temple, Texas (PRWEB) January 31, 2018
Elite Steel & Supply, a Temple, Texas-based company announced today that it is moving to a new, bigger location, giving the company the ability to serve customers better than ever before.
"Our new building is larger than the space we have now," said Garry Smith, owner for Elite Steel & Supply. "We're really excited about the increase in space at our new location. This will allow us to go to the next level of success by improving on our reputation for providing excellent customer satisfaction."
Elite Steel & Supply's mission, according to Smith, is to provide premium metal roofing and metal building supplies direct from its mill to customers, while maintaining its focus on quality and customer service. As for the company's new location, Smith revealed that the land is increasing from two acres to ten acres.
Elite Steel & Supply is known for being a one stop shop for customers with one location for all of their metal and steel building needs. With the quickest turnaround in Central Texas, 24 hours in most cases, and a large variety of inventory on hand for will-call pickup, Smith stressed that Elite Steel & Supply, is the perfect destination for metal buildings, steel buildings, steel barns, metal garages, metal roofing, metal building supplies, metal carports, metal sheds, and more.
"We will continue to be easily accessible being right off I-35," Smith pointed out. "Plus, we're adding new equipment, a standing seam form roller, which is also a portable machine for large jobs to roll on site". Smith went on to note that this family owned and operated company, is also implementing state-of-the-art software. "Top view 3D is a 3-D CAD software for residential roofing diagrams," Smith said.
For more information, please visit elitesteelandsupply.com/about-us and elitesteelandsupply.com/products-and-services.
About Elite Steel & Supply
Family owned and operated. We are committed to offering personal service and superior-quality products, direct from our mill to you. We are your one-stop shop for metal and steel buildings and supplies in Temple, Texas. Elite is pleased to offer the fastest turnaround time in central Texas.
Contact Details:
Garry Smith
7575 Pegasus
Temple, Texas 76501
USA
Phone:
(254) 773 – 4300
(254) 913- 2345
Source: Elite Steel & Supply
###