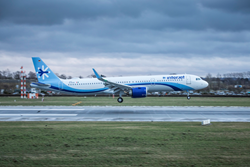 MEXICO CITY (PRWEB) February 01, 2018
Interjet announced today it has taken possession of its first Airbus A321neo, continuing the expansion of its fleet. This aircraft, along with seven additional A321neos to be delivered this year, will service both international and intra-Mexico destinations.
"We are very pleased to be the first airline in Mexico to take possession of the Airbus 321neo with CFM Leap-1A engines," said José Luis Garza, CEO of Interjet. "This combination of the latest aircraft technology and engines, make the A321neo the most efficient and quietest aircraft for our short and medium-haul flights. All Interjet A321neos will be configured for 192 passengers with a very comfortable 34-inch seat pitch, comparable to many business class seats," he added.
"Each aircraft will also be equipped with Panasonic's innovative eXO IFE system with 12-inch HD screens," said Julio Gamero, Chief Commercial Officer, "giving our passengers 'theatre-like', high-definition viewing. We are also committed to providing the latest high-speed internet service to keep them connected and productive while in the air," he added.
NEO is short for New Engine Option and with the two CFM Leap 1A engines, overall fuel consumption for the A321neo is approximately 20% less than its predecessor resulting in lower CO2 emissions giving the aircraft a much-improved carbon footprint. The new engine technology also makes the aircraft significantly quieter with maximum performance in high altitude cities.
"For more than ten years, Interjet has placed its trust in the A320 product line, and it is a pleasure to be celebrating this milestone with our long-time customer," said Rafael Alonso, President, Airbus Latin America and Caribbean. "The A321neo allows Interjet to efficiently respond to growing demand on popular routes, carrying more passengers while reducing overall operating costs," he added.
For more information regarding this new addition to Interjet's fleet or to make a reservation, visit http://www.interjet.com.mx or call (866) 285-9525.
About Interjet
Interjet is an international airline based in Mexico City providing air service to 53 destinations in eight countries, including 34 cities in Mexico. Its international network includes service to nine U.S markets: Chicago, Dallas/Ft. Worth, Houston, Las Vegas, Los Angeles, Miami, New York, Orlando/Sanford and San Antonio. Other international routes include Montreal, Toronto, and Vancouver, Canada; Havana, Santa Clara and Varadero, Cuba; Bogota, Colombia; Guatemala City; Guatemala; Lima, Peru; and San Jose, Costa Rica. The airlines operates a fleet of more than 79 aircraft including three Airbus A320neos, 47 Airbus A320's, six Airbus A321s, one Airbus A321neo and 22 Superjet 100s.
Media Contacts
Julieta Peña Flores
Tel. +52 (55) 9178 5500 x5833
Email: Julieta.pena(at)interjet(dot)com.mx
Photo Captions
1. Interjet A321neo Landing
2. Interjet CFM Leap 1A Engine