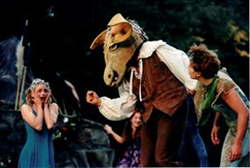 SAN RAFAEL, Calif. (PRWEB) January 31, 2018
Kanbar Kids presents extraordinary performing arts and culture experiences that enrich, entertain, educate and inspire generations together. Presenting innovative and entertaining opportunities that open doors and strengthen and engage the community through the power of the performing arts. All ages are invited to join in a meaningful, fun, welcoming experience.
The 2018 Kanbar Kids Series will focus on three classical performing art forms: symphonic music, Shakespeare, and opera. The second program of the season opens at 11:30 a.m. Sunday, March 18 with a fun, accessible introduction to one of Shakespeare's most beloved plays - A Midsummer Night's Dream. Through performance and an explanation of some of the play's scenes, Director Jackson Currier will help deepen enjoyment and understanding of the play. Director-led theater games with the entire audience conclude the event, and bring the Shakespeare experience to life. This engaging, live interactive event is great fun for the whole family!
Geared to engage children ages 4-10 years old and their families, these late Sunday morning performances at the Osher Marin JCC offer a broad multi-generational appeal.
No kids? No problem. All are welcome; bring family, bring friends, and enjoy this entertaining, educational and enriching classical performing arts experience.
WHAT: Engaging, interactive intro to classical performing arts with a multi-generational appeal. Snacks, Peet's coffee, Numi Tea & Hot Cocoa available for purchase & permitted in the theater.
WHEN: Tickets currently on sale:
10:30 a.m.: Will Call/Box Office
11 a.m. Theater Doors Open
11 a.m. Concessions Open (snacks, Peet's Coffee, Numi Tea, & hot chocolate avail for purchase)
SEATING: General Admission
WHERE: The Osher Marin JCC, 200 North San Pedro Road, San Rafael.
TICKETS: Available @ MARINJCC.ORG/KANBARKIDS
PARKING: Ample FREE parking | The Osher Marin JCC is 1/2 mile E off 101.
MORE: Recommended for children 4-10, and older.
For more information, please call 415-444-8089 or visit the Marin JCC's website.