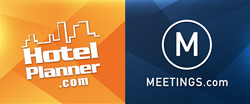 As the bar continues to rise, we're committed to meeting and exceeding the expectations of our customers and partners by providing quality sourcing and booking technology.
WEST PALM BEACH, Fla. (PRWEB) February 01, 2018
HotelPlanner.com and its sister brand Meetings.com have officially released their annual Year in Review for 2017. The company experienced a 30% increase in revenue growth, exceeding last year's numbers, and is now sourcing nearly one million group leads worldwide through the platform's booking engine. This continued expansion can be attributed to the company's advancements in technology offerings, group sourcing and comprehensive rate packaging.
"The group travel business is a sixty billion dollar business worldwide and on the rise. As we approach our 15th year as a company, we're fortunate to be in a position to grow and evolve alongside the industry. As the bar continues to rise, we're committed to meeting and exceeding the expectations of our customers and partners by providing quality sourcing and booking technology," stated Tim Hentschel, CEO and Co-founder of HotelPlanner.com and Meetings.com. "2017 was a great year for us. We launched our "Book-in-Block" reservations system allowing event planners to make direct online bookings for attendees; we expanded our SaaS offering allowing multiple partners including, hotel brands, corporations and travel management companies to better serve their clients; and we forged new partnerships with pro sports leagues and event creators, providing a more seamless user experience for their fans and clients, alike. Our platform is designed to source and book hotel rooms faster, better, and easier than ever."
Looking ahead, the company is expected to source nearly ten billion dollars in group hotel travel this year, totaling sixteen percent of the global group hotel marketplace.
2017's highlights include:
Company Growth and Giving Back

Acquired InternetHotels.com and Hotelsatanywhere.com, growing search engine optimization for individual and group hotel reservations.
Acquired Travel-Ticker.com, the first acquisition outside of the U.S., expanding online reservations platform.
Launched $20,000 Scholarship Program for Military Veterans and their families, offering financial assistance to those pursuing an undergraduate or graduate degree related to technology.
St. Jude Children's Research Hospital served as the Official Charity of the 2017 American Group Travel Awards (AGTA).
AquaAffirm became the Official Charity Partner for the European Group Travel Awards (EGTA).
New Clients and Partnership Renewals
Debuted in the Clipper 2017-18 Round the World Yacht Race, making a global ocean-racing debut as a Team Partner, one of twelve yacht teams to participate in the 40,000-nautical mile Clipper Race, an eleven-month voyage with exposure across six continents.
Joined Travelport Marketplace, providing hotel and meeting space sourcing and booking solutions through Travelport's global distribution systems Apollo, Galileo and WorldSpan.
Partnered with Triple Crown Sports to provide quality accommodations and professional services for Triple Crown Sports' tournament sports travel.
Signed football partnership with Hellas Verona F.C., to become the professional Italian football club's preferred hotel booking partner for team and fan travel.
Extended professional sports partnerships with the Professional Bowlers Association (PBA), Washington Redskins and on an international scale, European Professional Golfers (EuroPro), Triple Crown Sports, Matchroom Sport, Super League (Rugby), AFC Wimbledon, Euroleague Basketball, Millwall F.C., and Swansea F.C.
Capabilities and Industry Expansion
Introduced an "Attrition Protection" system, allowing hotels and their clients to re-sell rooms, avoid damaging penalties, and protect daily rates charged.
Announced Corporate Net Rate Group Booking Technology for corporate and event planners with comprehensive services including sourcing technology, "Book in Block", eContracting, and customization.
Started creating the world's first Virtual Planners, to launch two new artificial intelligence (AI) products to further enhance ground breaking group travel offerings.
Receiving content from top visual content curator and distributor, ICE Portal, to allow travel suppliers using ICE Portal's content management system to deliver their photos, videos and 360-degree virtual tours to HotelPlanner.com.
CEO and Co-founder Tim Hentschel named 2018 Cornell Hospitality Innovator of the Year from the Cornell University School of Hotel Administration.
Co-founder and CIO John Prince named 40 Under 40 Honoree for South Florida Business Journal's class of 2017.
Melissa Le'ppin promoted to Chief Sales Officer (CSO), former Vice President Sales and Executive Vice President of Business Development for HotelPlanner.com.
Scott Beane joins company as Senior Regional Product Director for the Las Vegas/Nevada markets, former Director of Sales and 23 years of experience in the hospitality Industry.
About HotelPlanner & Meetings.com:
HotelPlanner.com is the leading provider of online services in the global group hotel marketplace. Listed among the top 50 travel sites in the world and ranked number one in group travel, HotelPlanner.com is on track to produce nearly 4 million group leads this year, and is providing group hotel booking services to over 3,000 groups per day. The company's robust technology and automated rate checkers provide customers with the guaranteed lowest available rates from a network of more than 100,000 quality hotel partners worldwide, making it easier and faster to book hotels for any corporate and leisure event. With its new eRFP group booking system, "Book-in-Block" and licensing technologies, HotelPlanner.com continues to advance the group booking process online for direct clients, market leading affiliates and hotel partners worldwide.
The company owns and operates Meetings.com, a premier site that provides information, planning and booking services for meetings and hotel stays for corporations, associations and business-to-business enterprises. By combining advanced technology with a highly experienced staff of professional meeting planners and travel specialists, Meetings.com quickly finds clients the perfect space at the best price for meetings large and small.
Customers can visit HotelPlanner.com online at http://www.hotelplanner.com, or on its mobile app, which provides users with the lowest, real-time hotel rates and availability, detailed hotel information and an easy booking tool right from the palm of their hand. They can also follow HotelPlanner.com on Facebook, Instagram, Twitter, Google+, YouTube and its Everything's Better Together blog.
Founded in 2002 by CEO Tim Hentschel and CIO John Prince, the company provides 24/7 customer service and has offices in London, England (European Headquarters), Hong Kong (Asian Headquarters), West Palm Beach, FL (USA Headquarters), and Las Vegas, Nevada.