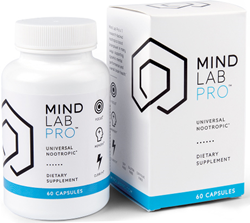 Mind Lab Pro®'s new formula upgrade reflects our commitment to making supplements that evolve and improve over time, just like the performance-driven consumers who take them
LONDON (PRWEB) February 02, 2018
Human performance innovator Opti-Nutra™ Advanced Nutraceuticals has announced an upgrade for its industry-leading Universal Nootropic™ brain supplement: Mind Lab Pro®. The new Mind Lab Pro® formula now includes:

Vitamins B6, B9, and B12: Shown in research to help regulate high homocysteine levels, which have been linked to brain circulation problems and increased risk of cognitive decline. Mind Lab Pro®'s B6, B9 and B12 are also presented in a new form — Eco-friendly, lab-grown BioGenesis™, complexed with whole-food cofactors that help with nutrient absorption.
Bacopa monnieri (24% bacosides, 9 bioactives): Calibrated to supply Bacopa's 9 nootropic constituents; precision-standardized for bacosides and validated by superior HPLC testing.
Maritime Pine Bark (95% proanthocyanidins): Supports healthy cerebrovascular function and brain antioxidant defenses; 95% proanthocyanidins is the strongest potency on the market.
Dropped from the formula are Pterostilbene and Vinpocetine, both of which were used to support brain circulation and antioxidant status in Mind Lab Pro®'s previous version.
According to Opti-Nutra™, Maritime Pine Bark's bioactivities are intended to replace both Pterostilbene and Vinpocetine with a single nootropic – enabling the addition of Vitamin B9 to complete the B6+B9+B12 brain health mini-stack in the new Mind Lab Pro®.
All B-Vitamins in the new Mind Lab Pro® are now presented as BioGenesis™, Opti-Nutra™'s exclusive, nature-identical and enhanced-potency vitamins and minerals. In the previous version, Opti-Nutra™ supplied Vitamin B6 as P-5-P and Vitamin B12 as methylcobalamin.
In addition to formula changes, Mind Lab Pro® has upgraded its website. MindLabPro.com now has more FAQs answered, more in-depth information on Mind Lab Pro®'s nootropics, and a new blog with nootropic insight, brain-healthy lifestyle articles and valuable mental performance tips.
"Mind Lab Pro®'s formula upgrade reflects our commitment to making supplements that evolve and improve over time, just like the performance-driven consumers who take them," explains Opti-Nutra Director Dave Wright.
"Meanwhile, our website upgrades strengthen Opti-Nutra's ongoing mission of giving consumers the information, resources and formula transparency that empower them to enhance their brainpower safely and effectively."
About Mind Lab Pro®
Mind Lab Pro® is a brain supplement designed to optimize multiple cognitive pathways and unlock 100% Brainpower. The first Universal Nootropic™, Mind Lab Pro® functions as a whole-brain optimizer – supporting brain health while enhancing focus, learning, memory, relaxation, stress resistance and more. Mind Lab Pro® is formulated in the UK and made in the USA by Opti-Nutra™. http://www.mindlabpro.com
About Opti-Nutra™ Advanced Nutraceuticals
Opti-Nutra™ is dedicated to researching, developing and manufacturing innovative nutritional supplements for performance-driven consumers. Opti-Nutra™ upholds superior quality standards to ensure superior health and performance results across all of its formulas, including Mind Lab Pro® and Performance Lab® supplements (Upgrade Yourself™). http://www.optinutra.com
*These statements have not been evaluated by the Food and Drug Administration. This product is not intended to diagnose, treat, cure, or prevent any disease.