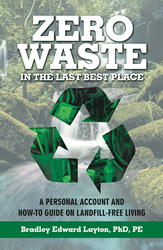 MISSOULA, Mont. (PRWEB) February 05, 2018
An engineer and scientist has released his comprehensive guide to achieving a zero-waste lifestyle, becoming landfill-free and, ultimately, committing to a more earth-friendly and consumer conscious way of life.
In "Zero Waste in the Last Best Place," author Bradley Edward Layton, PhD, PE, puts forth a historical examination of how people have interacted with and disposed of waste from the dawn of humanity, through the Stone Age and Industrial Revolution, to present day. He also shares his own journey to zero waste and discusses critical topics, such as the negative impact pollution and fossil fuels have on the environment and positive results that have arisen from waste repurposing case studies.
"The stories and photographs in this book detail my quest to find a means by which our modern society can move away from the notion of waste and toward a system in which all materials retain their value indefinitely," Dr. Layton said. "Rather than paying to throw things 'away,' my hope is that we can learn how to put these materials back to use and help our future generations prosper."
"The act of recycling leads to creative ideas and innovations that can potentially become highly profitable business opportunities and essential technologies for creating a more sustainable civilization for all," an Amazon customer wrote in a review of the book. "Zero Waste will keep any recycling nerd awake at night with fresh inspirations to up the game and take recycling to the next level."
Peppered with entertaining anecdotes of dumpster diving, backyard bartering and other hijinks, Dr. Layton's book offers readers an easy-to-follow manual for jumpstarting their landfill-free life and presents a relatable, empowering and informative method for achieving sustainable solid waste management.
"Zero Waste in the Last Best Place"
By Bradley Edward Layton, PhD, PE
ISBN: 978-1-5320-2269-2 (hardback); 978-1-5320-2268-5 (paperback); 978-1-5320-2267-8 (electronic)
Available at the iUniverse Online Bookstore, Barnes & Noble and Amazon
About the author
Bradley Edward Layton, PhD, PE, is a licensed professional engineer and CEO of Integration Energy LLC. Dr. Layton holds a doctorate in biomedical engineering and a master's in mechanical engineering from the University of Michigan and completed his undergraduate degree at the Massachusetts Institute of Technology. He has previously taught mechanical engineering at Drexel University and directed the Energy Technology Program at Missoula College. Dr. Layton currently resides in Missoula, Mont. To learn more or purchase a signed copy of the book, please visit http://www.humanpoweredfuture.com or the author's Facebook page.
###
General Inquiries, Review Copies & Interview Requests:
LAVIDGE – Phoenix
480-648-7557
dgrobmeier(at)lavidge.com