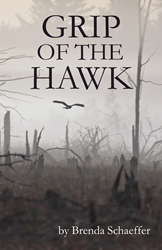 MINNEAPOLIS (PRWEB) February 05, 2018
A best-selling author and seasoned psychologist has released her debut psychological thriller, which delivers real-life lessons about the dark corners of the world through the fictional account of a woman who finds herself trapped in a terrifying spiritual war with elusive and malicious forces.
In "Grip of the Hawk," author Brenda Schaeffer presents the thrilling fictional story of protagonist Rachel Julian, a psychiatrist whose life takes a dark turn when she is stalked and terrorized by unknown assailants, who she suspects to be members of an evil cult. With each terrifying or traumatizing event she experiences, Julian encounters both pragmatic and spiritual teachers who guide her to safety, helping her to reclaim her ability to trust, discover her true identity and, ultimately, survive.
"'Grip of the Hawk' is a fictional example of how to survive through darkness, danger and uncertainty," Schaeffer said. "The book's narrative is not unlike a harrowing time in my life during which I was the target of multiple threats as well as stalking. The experience challenged me to live what I wrote about – there was no escaping the lessons to be learned."
A harrowing tale of love, betrayal, terror and redemption, "Grip of the Hawk" delivers a gripping narrative about how dark, inexplicable events invite the protagonist to either succumb to fear or use the psychological and spiritual tools in her pocket to move beyond it. Schaeffer's book was a gold winner in the "Life Passage Realistic Human Relations Fiction Book" category of the Human Relations Indie Book Awards and also received an honorable mention in the "Life Journey Human Relations Indie Book" category.
"If you are like me, you will quickly turn all 300 pages so you can learn the curious 'who, what and why,'" an Amazon customer wrote in a five-star review of the book. "Well written, the story was both entertaining and alarming in how realistic all the probabilities were."
"Grip of the Hawk"
By Brenda Schaeffer
ISBN: 978-1-5043-8455-1 (hardback); 978-1-5043-8454-4 (paperback); 978-1-5043-8463-6 (electronic)
Available at the Balboa Press Online Bookstore, iTunes, Barnes & Noble and Amazon
About the author
Brenda Schaeffer is a licensed psychologist, certified addiction specialist, international speaker and best-selling author of "Is It Love or Is It Addiction?" Schaeffer holds a doctorate in spiritual psychology, has extensive media experience and is passionate about teaching others how to utilize painful life events to foster spiritual and personal growth. She currently resides in Minneapolis. To learn more, please visit http://www.brendaschaeffer.com.
General Inquiries, Review Copies & Interview Requests:
LAVIDGE – Phoenix
Danielle Grobmeier
480-648-7557
dgrobmeier(at)lavidge.com