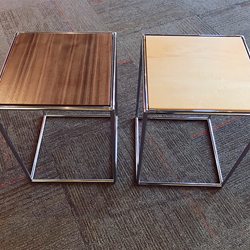 Kalamazoo, Michigan (PRWEB) February 02, 2018
As Abstractas home furniture becomes more and more popular among home owners and interior designers alike, the company has continued to release new products and add to the modern table line.
At its core, Abstracta® is a modular display system that goes beyond the limits of style and time. The simple, classic system consists of open design so simple, so elegant, that it accentuates any product. It's clean, contemporary lines lend themselves to unlimited designs and environments. It blends with any decor and fits into any space – as a wall unit, center floor or window display, or ceiling fixture. Used by architects, designers and visual merchandisers worldwide, Abstracta's modular displays are ideal for retail stores, office buildings and trade shows Danish architect Poul Cadovius created and perfected the Abstracta tube and connector system in the early 1960s in Copenhagen. The system was the first of its kind to allow the modular construction of simple and complex structural shapes, quickly and easily. Through the years, Abstracta has been specified for store fixtures, home shelving and furniture, space frames and trade shows among many other configurations. The many awards granteabout-abstracta-connectord to architect Cadovius and Abstracta include a Gold Medal in Brussels for International Design and The ID Classics Prize in 1992 by the Danish Design C
Consort Display Groups president, Roger Lepley, acquired Abstracta and added the line of small tables that would begin the Abstracta Home Furniture collection. Mya tables were created to act as a drink table next to a chair or couch, fill a small space that inevitably turns up when arranging furniture, or as a surface to house a lamp or sculpture. Next up was a set of nesting tables. Comprised of three sizes, the Nesting table set conveniently opens up surface space in a room. Clean lines and open design enhance rooms expanded, nested or placed individually as needed. Bunch and Lamp tables were added next.
The Nesting, Bunch, and Lamp tables all originally were sold only with a glass top. The Mya tables are sold with wooden and tile tops. Finally, Abstracta has released the Bunch table with beautiful wooden tops in Maple and Walnut. The Bunch table works as a stand alone piece or, by bunching several tables together a presentation of 3 or 6 makes a stunning centerpiece for larger spaces or unique coffee table use.