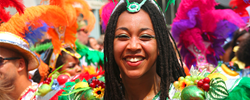 We love Merengue music rhythms during Carnivals
SANTO DOMINGO, Dominican Republic (PRWEB) February 01, 2018
The city of Santo Domingo is ready to welcome thousands of international visitors for this 2018 Carnival. While carnival events take place all around the country, the Santo Domingo's festival along the Malecon Avenue, is the most iconic parade of all and it takes place every weekend of the month of February. Visitors can expect spectacular marches, costumed performers, dancing, rum tastings and a wide variety of street food. The masks worn by the 30,000 participants in the parade symbolize good and evil.
Santo Domingo is in essence, a collage of cultures, history, music and flavors. The sounds of merengue and bachata music discharge in every corner across the city. Beautiful sunsets and the most friendly and cheerful Caribbean people, make of this city a unique destination.
The Colonial Zone, declared world heritage by UNESCO, is filled with emblematic monuments such as the first cathedral of the Americas and the Alcazar de Colon, offering also a wide variety of culinary options. In 2018, Santo Domingo was proclaimed the Caribbean's Capital of Gastronomic Culture. Dominican cuisine is a fascinating mix of Spanish, Taino and African elements such as Plantains, Cacao, Yucca and Avocado, among many other exotic delights.
The Santo Domingo Carnival is celebrated every year during the months of February and March, all across the Dominican Republic. The Carnival is quite an event and definitely one of the biggest celebrations in the country, a mixture of rituals, cultures and traditions inherited from the ancestors of the Dominican people; the Tainos. The African and European Carnivals were brought to the country by Christopher Columbus, with evidence that this annual tradition started at some point in the 1500's.
Explore this unique destination, the 2018 carnival activities and more experiences with the special carnival rates:
http://deals.marriott.com/dominican-republic-carnival
http://www.marriott.com
http://www.spg.com
About Marriott International, Inc.
Marriott International, Inc. (NASDAQ: MAR) is based in Bethesda, Maryland, USA, and encompasses a portfolio of more than 6,500 properties in 30 leading hotel brands spanning 127 countries and territories. Marriott operates and franchises hotels and licenses vacation ownership resorts all around the world. The company also operates award-winning loyalty programs: Marriott Rewards®, which includes The Ritz-Carlton Rewards®, and Starwood Preferred Guest®. For more information, please visit our website at http://www.marriott.com, and for the latest company news, visit http://www.marriottnewscenter.com. In addition, connect with us on Facebook and on Twitter and Instagram: @MarriottIntl.