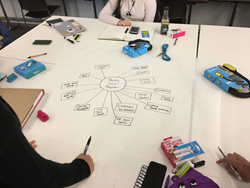 The collaboration was fantastic. Solutions truly emerged from anyone on the team," said Denise Heckman, Associate Professor and Program Coordinator for the Syracuse School of Design.
NEW YORK (PRWEB) February 01, 2018
The community-led invention platform Quirky in partnership with Syracuse College of Visual and Performing Arts (VPA) partnered to deliver a one-of-a-kind invention experience for students coming back from winter break. When students arrived to start their spring semester at VPA, they were greeted by Quirky industrial design lead, Lex Zelefkowitz, a Syracuse alumni and briefed on a Quirky invention challenge, The World's Greatest Party Host, to design the next generation of party planning and hosting products.
Students were engaged and excited about the challenge – with multiple groups starting their brainstorming exercises within minutes following the brief. "This was a great group project, where students from freshmen to seniors had a chance to practice defining problems, communicating the solution and thinking about possible production methods. The collaboration was fantastic. Solutions truly emerged from anyone on the team," said Denise Heckman, Associate Professor and Program Coordinator for the Syracuse School of Design.
Students will not only receive a grade from the school on their design work, but also vie for the opportunity to be chosen to preview their invention idea live on Quirky partner HSN's Monday evening show, American Dreams, a program designed to tap into the joy and excitement of discovering new entrepreneurs.
Nearly 100 students participated in the invention challenge, and more than 20 ideas were submitted over the 2 week period. The winning product or products will be selected in March. As new members of the Quirky community, students will also have the ability to receive product royalties if their idea is chosen and commercialized.
Knowledge in science, technology, engineering, arts [industrial design] and math (STEAM) can be the key to a successful future. Some of the most well-known leaders of our time, including Steve Jobs and Marissa Mayer, demonstrated strong creativity and technical skills. "We invest in the younger generations because tech is the face of the future. 80% of jobs in the next decade will require technology skills and we believe partnerships like the one we have with VPA will help prepare students for their careers," says Gina Waldhorn, President of Quirky.
About Quirky:
Founded in 2009 with a mission to "make invention accessible," Quirky brings new products to market by connecting a global community of inventors to established manufacturers. At the nexus of technology-enabled cultural trends like the maker movement, community creativity and the demand for meaningful product backstories, Quirky has challenged the status quo of invention to become a major force in the product development landscape. Quirky has launched more than 150 products across categories including electronics, home and kitchen, and more than 1 million active community members share in the product royalties.
About Syracuse College of Visual and Performing Arts:
The College of Visual and Performing Arts at Syracuse University (VPA), was founded in 1873 upon the belief that art and scholarship can affect change. Today, VPA is committed to the education of cultural leaders who will engage and inspire audiences through performance, visual art, design, scholarship, and commentary. With more than 300 faculty and staff, VPA provides the tools for self-discovery and risk-taking in an environment that thrives on critical thought and action for the nearly 2,000 undergraduate and graduate students enrolled in the college.
About American Dreams :
For 40 years, HSN – the original TV retailer – has been dedicated to finding and supporting innovators, inventors and entrepreneurs. HSN helps entrepreneurs bring their products to life by giving them the HSN platform to share their product and their story. Today, more than ever, HSN believes in the powerful role small businesses play in building communities and local economies, and is passionate about helping to build the economy one entrepreneur at a time. HSN has developed strategic partnerships with Good Housekeeping, The Stable, SCORE, The United States Hispanic Chamber of Commerce, Comcast Xfinity, ABC's Shark Tank, CBS' HATCHED and more to further discover and elevate entrepreneurs across the country.
Media Contact:, Quirky:
Lissa Regets, lissar(at)quirky.com, (480) 241-9550