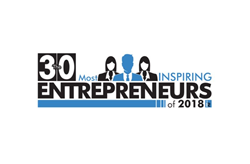 This achievement continues to validate our success in the SAP marketplace.
MILWAUKEE (PRWEB) February 01, 2018
Approyo, a leading enterprise provider of cloud-centric SAP solutions, announced today that Insights Success Magazine has named Approyo CEO Chris Carter among the 'The 30 Most Inspiring Entrepreneurs of the year.' The publication sheds light on 30 of the most admired CEOs and their journeys to success, it also provides insights on their mission and vision, their backgrounds, and the traits that make a resilient leader.
"Upon review of the nominees of The 30 Most Inspiring Entrepreneurs and going through various factors such as leadership abilities, customer satisfaction, company growth and employee success, Chris Carter, Founder and CEO of Approyo, stood out with his reliable and empowering role of proliferating the company into a leading global SAP HANA technology solutions provider," mentions the Editor-in-Chief of Insights Success Magazine, Pooja M. Bansal.
"I am extremely honored to be named one of the 30 Most Inspiring Entrepreneurs by Insights Success," said Christopher Carter, CEO of Approyo. "I personally think the entire team at Approyo made this award possible, not just me alone. This achievement continues to validate our success in the SAP marketplace."
The magazine spotlights companies that provide leading, effective and groundbreaking technologies. For the full article, please visit Insights Success.
Approyo has been providing solutions powered by SAP HANA®, such as the latest version of SAP S/4HANA®, in the cloud for the last three years. Approyo built an entire platform using the best solutions in the market, helping companies move to SAP HANA quickly and benefit immediately.
About Approyo
Approyo offers products and services that include upgrades, comprehensive remote operations/managed services, consulting, hosting and implementations and cloud services. Approyo differentiates itself by offering scalable managed solutions built on SAP HANA for organizations of all sizes. Headquartered in Milwaukee, WI and offices in throughout North America, Europe and South America, plus partners around the world, Approyo has the capability to support global organizations and their applications.
For additional information e-mail us at info(at)Approyo(dot)com, call 404.448.1166, or visit us on the web at http://www.Approyo.com.
About Insights Success
Insights Success is a forum where top leaders and executives talk and share about their experiences, views, and mantra for success which will help the young and dynamic bloodline of professionals to learn, cater and deliver business needs for customers in order to become futuristic market leaders.
SAP, SAP HANA, SAP S/4HANA and other SAP products and services mentioned herein as well as their respective logos are trademarks or registered trademarks of SAP SE (or an SAP affiliate company) in Germany and other countries. See http://www.sap.com/corporate-en/legal/copyright/index.epx for additional trademark information and notices.
All other product and service names mentioned are the trademarks of their respective companies.