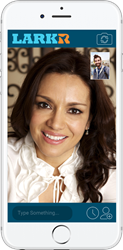 LARKR is very excited to participate in HackMentalHealth to help support the entrepreneurial ecosystem around mental health care.
SAN FRANCISCO (PRWEB) February 01, 2018
New mental health app LARKR is excited to announce its support of HackMentalHealth, Silicon Valley's inaugural mental health hackathon, taking place February 3-4 in San Francisco. LARKR Co-Founders Shawn Kernes and Chris Kernes will participate in the event and help mentor participants throughout the weekend.
Recognizing mental health as one of the most important issues facing the world today, HackMentalHealth will bring together the smartest and most passionate engineers, designers, entrepreneurs and big-thinkers to innovate the industry. Spearheaded by former Google PM Stephen Cognetta who volunteered as a suicide hotline counselor at the San Francisco Suicide Prevention, the 24-hour event will be focused on hands-on learning and partnership within the mental health space, including academia, industry and entrepreneurship.
More than 500 attendees are expected to attend the in-demand event, which also has a waitlist of over 200 people. Participants will be matched with mentors, attend workshops, hear from leading influencers at keynote presentations and enjoy mental wellness activities such as guided mediation, art therapy and Zumba, before finally sharing their polished ideas at the end of the weekend. Judging the event are leading mental health advocates from the Silicon Valley area, including David Morin, Founder & Partner at Slow Ventures and Founder of Sunrise, a startup seeking to cure depression.
"LARKR is very excited to participate in HackMentalHealth to help support the entrepreneurial ecosystem around mental health care," said Co-Founder and CEO Shawn Kernes, former CTO of StubHub. "LARKR is a proud innovator in the industry, providing a new solution for on-demand therapy and mobile mental wellness tools. But the scale of America's mental health crisis is bigger than just us; We need to work together and engage the country's brightest minds to resolve this epidemic."
LARKR's smartphone app is now available for download in the Apple App Store and it will also be coming soon to Android devices. Learn more at larkr.com.
About LARKR
LARKR is a groundbreaking new start-up poised to revolutionize mental health care in America by eliminating the barriers that keep approximately 60% of Americans from receiving the help they need. LARKR provides on-demand talk therapy with licensed practitioners through an easy-to-use mobile video platform, widening the reach of mental health care. Through LARKR, patients can arrange multi-user conferences to accommodate group therapy sessions. Additional mindfulness and self-care features of the app include guided meditations, mood tracker My Story, and daily good deed challenge Be The Change. For more information, visit http://www.larkr.com.