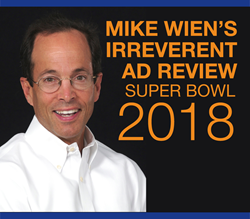 It's not enough for an ad to be creative. Viewers must correctly remember the brand associated with that commercial for the big bucks investment in airtime during the Super Bowl to be worth it.
ATLANTA (PRWEB) February 02, 2018
As he has for the past 19 years, Mike Wien taps his marketing moxie to release a Monday morning review of commercials broadcast during the 2018 Super Bowl. With more than 111 million anticipated viewers of this year's big game, advertising airtime will exceed $5 million per 30-second commercial.
In an effort to stimulate thoughtful conversation about what constitutes effective marketing, Wien evaluates the commercials on these three important criteria:
1. Did the creative break through the clutter of incredibly talented advertising? (Many polls are just popularity contests and stop there.)
2. Was the message relevant and did it reflect positively on the brand?
3. While the viewers might remember the commercial, will they correctly remember who paid more than $5 million to get their message out to the masses?
Brands like M&Ms (Mars), Doritos & Mountain Dew (PepsiCo), and Pringles (Kellogg) have released teaser ads this year to stoke anticipation for their Super Bowl spots. Other big brands attempt to get their money's worth by releasing their commercial on the internet ahead of the big game. According to The New York Times, some advertisers spend upwards of $1 million to market their marketing.
Wien is uniquely qualified to review the Super Bowl advertising. As a former corporate marketing leader, he held senior marketing and sales positions with Frito-Lay, Pepsi, Omni Hotels, Citibank, and Deloitte. While at Frito-Lay, Wien was responsible for launching one of the most successful food brands: Tostitos®. He is currently an adjunct professor of marketing and the franchising academic advisor for the Cecil B. Day School of Hospitality within the J. Mack Robinson College of Business at Georgia State University.
A professional speaker and consultant, Wien has a reputation for delivering practical and inspiring keynotes and breakout sessions with strategies for successfully attracting new customers and the role concentration, discipline, and endurance play in living a more fulfilling life. Each customized presentation includes personal stories from his business and triathlon careers. Wien's book "The Specific Edge: How Sustained Effort Wins in Business and Life" was published in 2014 and is available on Amazon.
Wien has represented the United States in five International Triathlon Union World Championships and won the world championship for his age group in 2016 and 2017. His competitive athletic career also includes 16 Ironman triathlons (including 6 Ironman World Championships), 50 marathons including Boston (13 times), and New York (8 times). In 2011, he finished second in his age group at the Ironman World Championship. Wien is sponsored by Timex, Trek Bikes, Castelli Apparel, Blue Seventy wet suits, and Rudy Project sunglasses.
He serves on four not-for-profit boards, including USA Triathlon under the US Olympic Committee, where he is vice president. Wien has an MBA in marketing from the Kellogg School at Northwestern University and a BS in business from Colorado State University.
You can see last year's ad review at: https://specificedge.com/superbowl2017/
Wien's 2018 Annual Irreverent Super Bowl Ad Review will be posted by 6am Monday, February 5. https://specificedge.com/superbowl2018/
For more information visit http://www.specificedge.com
# # #
Mike Wien is available for interviews. Contact him at mike(at)specificedge(dot)com or 404-232-0058.