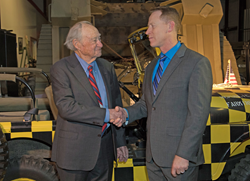 (PRWEB) February 02, 2018
The Museum of American Armor at Old Bethpage Village Restoration has announced that Brian E. Miller, Director of Procurement for PSEG Long Island, has been appointed to the Advisory Board of the Nassau County Veterans Service Agency as a representative of the Museum. Mr. Miller is currently a Brigadier General in the U.S. Army Reserve assigned to the 412th Theater Engineer Command in Vicksburg MS.
The announcement was made at the Museum of American Armor during recent ceremonies that honored U.S. District Court Judge Leonard Wexler and New York Assemblyman Charles Lavine.
Nassau County Executive Lauren Curran said, "General Miller best exemplifies the dedication, discipline and expertise of our American military. It should come as no surprise that he plays a crucial role at PSEG Long Island while ensuring the Army Reserve is capable of meeting every challenge in very difficult parts of the world."
Mr. Ralph Esposito, Director of the Nassau County Veterans Service Agency, stated, "We are delighted that the armor museum now has a representative on our advisory board whose experience exemplifies how those with extraordinary military training have successfully brought their credentials to their civilian careers.
Serving a large and dynamic community
Mr. Miller said, "I am honored to be selected by the museum and the Nassau County Veterans Service Agency to serve on the Advisory Board. The veterans community has been a large, vibrant and dynamic part of the county, literally, since its return from World War II, and the role of the agency has been to assist those men and women who have worn the uniform in the service of our country. I look forward to contributing in whatever manner it believes will best strengthen and expand that role."
During his military career, Brigadier General Miller has been responsible for the training, operations, and welfare of a Brigade with more than 2,400 soldiers in nine northeastern states that provides mobility, maneuver, and security support to larger division and corps formations. He is trained to provide on-call forces to support chemical, nuclear, and search and rescue disaster response operations as part of Northern Command's support for FEMA and other civilian agencies. He has also prepared and sent units overseas into hostile areas to provide engineering support for different geographic combatant commands.
During a recent tour on active duty he was Branch Chief and Senior Advisor to the Combined Security Transition Command in Afghanistan. In that theater of operations he led three teams in Kabul that advised Afghanistan's Ministry of Defense's (MOD) Construction & Property Management Department (CPMD) responsible for all Afghanistan National Army (ANA) facilities.
A record of service and innovation
As a Captain, the PSEG Long Island executive served in Germany and Bosnia, where, in support of the peace accords that ended the bloodshed in that embattled Balkan country, he planned and coordinated the construction of the first bridge over the Sava River into Bosnia in the face of severe flooding, resulting in the longest float bridge built by the US. Army since World War II. He would go on to coordinate some 100 engineers projects for a combat engineer brigade of 2700 engineers deployed in Bosnia.
Mr. Miller is a recipient of the Bronze Star. He also received the Meritorious Service Medal, Army Commendation Medal, Army Achievement Medal, Global War on Terrorism Service Medal, Afghanistan Campaign Medal, Iraq Campaign Medal, NATO Medal, Combat Action Badge, and Parachutist's Badge.
He earned an M.B.A from Harvard Business School, an M.S. in Mechanical Engineering from Colorado State University and a B.S.E., from Duke University.
President of the Museum of American Armor, Lawrence Kadish, stated, "Mr. Miller represents the finest traditions of the American military. We are proud to have him as the museum's representative on the Advisory Council to the Veterans Service Agency."
The Museum of American Armor at Old Bethpage Village Restoration, 1303 Round Swamp Road, Old Bethpage, is a living tribute to every American who has worn the uniform and those who continue to defend our nation today. Its collection includes World War II tanks, artillery, armored cars and weapons that broke the back of the Axis powers over seventy years ago.
It is open Wednesday through Sunday, between 10:00 a.m. and 4:00 p.m. Donations are $12 for adults; $8 for children 5 - 12 (under 5 admitted free); $8 for seniors, volunteer firefighters and veterans. Admission provides visitors with access to both the armor museum and the adjacent Old Bethpage Village Restoration. More information at http://www.museumofamericanarmor.org and on Facebook.