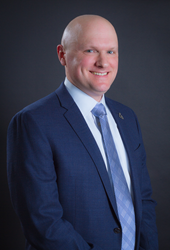 "Greg's skills and knowledge around capture within the federal marketplace are unmatched."—Giles Kesteloot, President, Blackstone Federal
ARLINGTON, Va. (PRWEB) February 06, 2018
Blackstone Federal has appointed Greg Adams as Vice President of Strategic Capture. Adams, who helped lead Blackstone Technology Group's government technology consulting practice to new heights in 2017, was previously the division's Senior Director, and he will continue to lead Blackstone Federal's capture business.
"Greg's skills and knowledge around capture within the federal marketplace are unmatched," says Giles Kesteloot, President of Blackstone Federal. "His ability to lead and execute a world-class capture process was key to Blackstone Federal experiencing a record year for contract wins in 2017."
Adams, who joined Blackstone in 2005, has been a key strategist in many of Blackstone's recent proposal wins, but his expertise also extends into delivery—having led and supported major transformation efforts for DHS and other commercial and public sector clients during his 20-year career.
"I'm fortunate to have such a great team supporting me and to be working with some amazing clients," Adams says. "I look forward to continuing to collaborate with our delivery teams and customers to bring critical solutions for the Homeland Security mission."
Launched in Arlington, Va. in 2002, Blackstone Federal is the beltway's premier engineering, transformation, and creative design agency. Rooted in a common culture, Blackstone Federal employees bridge the gap between the beltway and Silicon Valley to create a company unlike any in DC.
Learn more about Blackstone Federal at https://blackstonefederal.com/