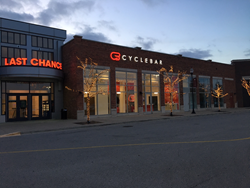 We predict that consumers will soon see this self-care precinct trend take a higher focus in other high-profile retail centers across the U.S.
CHICAGO (PRWEB) February 01, 2018
Pacific Retail Capital Partners (PRCP) and Clifton Realty Management have uncovered an unconventional way to incorporate a $10 billion industry trend to improve an underutilized area of a popular Chicagoland shopping destination.
Yorktown Center, a 1.5 million square-foot, two-level shopping center in Lombard, Ill., now features a 12,000-square-foot "self-care precinct" where national fitness, health and beauty brands have converged making it a one-stop shop for the center's 8.5 million annual visitors and nearby residents.
Featuring a premium selection of brands, the new precinct allows shoppers and nearby residents to conduct all self-care needs in one place. Tenants include:

The Barre Code – The Barre Code is an empowering and results-driven fitness program and franchise engineered for women, offering a variety of classes in cardiovascular conditioning, strength training and restoration.
CycleBar® – CycleBar is a Premium Indoor Cycling™ boutique that offers energizing rides tailored to all fitness and experience levels. CycleBar rides inspire, motivate and invigorate riders. Unique to CycleBar and to enhance their fitness journey, each rider receives an email with six key metrics of their daily and historical performance to help track their progress.
Orangetheory® Fitness (opening early February 2018) – Orangetheory Fitness is a scientifically designed, one-of-a-kind, group personal training workout broken into intervals of cardiovascular and strength training. Backed by the science of excess post-exercise oxygen consumption (EPOC), Orangetheory's heart-rate-monitored workouts are designed to get participants within the target-training zone of 84 percent to 91 percent of their heart rate, which stimulates metabolism and increases energy.
Amazing Lash Studio – Amazing Lash Studio provides semi-permanent eyelash extensions at retail studios across the country in convenient locations that offer extended hours and feature private lash application suites. Amazing Lash Studio has a patented application process that enables their highly trained staff of licensed aestheticians to complete the service in a fraction of the time required at traditional outlets.
European Wax Center (opening spring 2018) – European Wax Center is the Ultimate Wax Experience offering comfortable, healthy waxing. The concept was simple: to bring the EWC unique waxing expertise and experience to women throughout the USA. The setting: a modern environment with crisp, clean lines, private waxing suites, providing the most professionally trained waxing experts, with exceptional service. And the first brow, underarm or bikini line wax is always complimentary. Now, a luxurious waxing with proprietary products can be incorporated into everyone's beauty regimen.
Yorktown Center further caters to the healthy lifestyle sector by offering FIT4MOM, a workout model dedicated to the Strength In Motherhood™ through classes and support for moms in every stage of motherhood, including free community classes during Yorktown Center events in Center Court. 2XL Strength & Fitness, a private powerlifting club, specializing in strength training, competition training, competition preparation and seminars, is also a part of this concept. Additionally, a mall walking program is planned to be added in early 2018.
The Chicagoland shopping destination will finish this healthy lifestyle initiative with a 40,000 square-foot fitness concept that is yet to be revealed, anticipated to open in late summer 2018.
According to NPR, the self-care industry is a $10 billion market and millennials are leading the pack in self-care spending.
"We are constantly innovating to uncover ways to bring new life into underutilized areas of any retail center we manage," said Gary Karl, executive vice president of Pacific Retail Capital Partners. "Self-care is one of the fastest growing segments in consumer spending today and is continuing to rise with the increasing popularity of boutique fitness and membership-model health and beauty businesses."
This self-care precinct evolved after the successful opening of Last Chance, owned and operated by Nordstrom, in October 2016. This addition energized the west elevation portion of the center with a 48,000 square-foot facility and branded exterior. Other improvements recently made to the west façade include new sidewalks, new exterior frontage featuring fascia panels and brick, new storefronts and changes to the loading areas serving these stores. Today, the west shopping center entrance is now the second most trafficked entrance of all five, compared to one year ago when it was the least used entrance.
"We have seen these concepts cluster together in traditional strip centers, but rarely are they combined in a lifestyle center such as Yorktown Center," said Karl. "We predict that consumers will soon see this self-care precinct trend take a higher focus in other high-profile retail centers across the U.S."
Clifton Realty Management is Pacific Retail Capital Partner's leasing partner at Yorktown Center. Pacific Retail Capital Partners oversees all operations and ongoing enhancements. The company has significant experience in the management, leasing and repositioning of regional shopping destinations. To learn more about Yorktown Centers' 150 specialty stores, 20 restaurants and more, visit yorktowncenter.com.
###
About Clifton Realty Management
Clifton Realty Management, founded by Bill Cappelletti and Steve Cassella, is a fully integrated retail real estate firm specializing in regional malls and lifestyle centers throughout the United States. The firm has aligned interest in the venture and is the leasing agent for the property. With over 50 years of combined experience with various major shopping center owners and REITS, Clifton Realty Management provides advisory and consulting, retail leasing, development and tenant coordination services.  The firm is currently responsible for over 4 million square feet of retail space in Illinois and New York. To learn more, please visit us at: http://www.cliftonrm.com
About Yorktown Center
Yorktown Center, a 1.5 million square-foot two-level shopping center with over 150 specialty stores and 15 restaurants, is located in the heart of Chicago's western suburbs. Anchored by a top-performing Von Maur and Carson's, as well as JCPenney, Yorktown Center offers a wide array of convenience and destination shopping, dining, fitness studios and entertainment. For more information, visit yorktowncenter.com.
About Pacific Retail Capital Partners
Pacific Retail Capital Partners (PRCP) is one of the nation's premier retail operating groups of large open-air centers and enclosed malls, with more than $1.3 billion in retail assets presently under management in the United States. Based in Southern California, PRCP provides end-to-end sourcing, assessment, underwriting, valuing, developing, and asset management of retail real estate with a proven track record of repositioning retail properties. PRCP strategically manages over 11 million square feet of regional malls and open-air lifestyle centers. The Executive team has over 150 years of collective real estate expertise with deep experience in leasing, marketing, operations, design, development, investment, and finance. With a keen focus on enhancing the value and quality of its growing portfolio, PRCP is dedicated to creating a unique, strategic vision for each property and exceeding the highest expectations of retail investors, retailers, and consumers. To learn more visit pacificretail.com or follow social media at: Facebook: https://www.facebook.com/pacificretailcapitalpartners/
Instagram: @PacificRetail