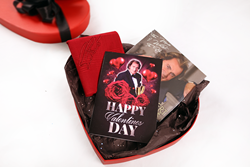 NEW YORK (PRWEB) February 01, 2018
OK!Good Records has announced a new limited edition gift set crafted specially for Engelbert Humperdinck fans this Valentine's Day. The Engelbert Humperdinck Deluxe Valentine's Day Gift Set is an unforgettable gift for any fan of the legendary performer. Whether it may be a gift for a loved one or a must-have purchase for fans themselves, this gift set is a Valentine's Day exclusive for any Engelbert Humperdinck fan to enjoy.
The Engelbert Humperdinck Deluxe Valentine's Day Gift Set is a new addition in the OK!Good Records store for Valentine's Day 2018. The gift set includes special Engelbert Humperdinck signature items that any fan can enjoy for years to come. The Deluxe Valentine's Day Gift Set includes a signed copy of Engelbert Humperdinck's newest full-length album, 'The Man I Want to Be' and an Engelbert Humperdinck Signature Handkerchief. Most importantly, fans receiving this heartfelt gift set will be delighted to open an exclusive hand-signed Valentine's Day greeting card from Engelbert, included with the gift set, in its adorable heart-shaped box.
Fans will want to be sure to purchase this item as soon as possible. This exclusive item is only available in a limited quantity of 100 at the OK!Good Records store, and is sure to sell out. Fans who would like to have their gift sets before Valentine's Day are highly encouraged to order before Friday, February 9th to ensure timely delivery within the United States. Purchase an Engelbert Humperdinck Deluxe Valentine's Day Gift Set at the OK!Good store here.
About Engelbert Humperdinck:
Iconic careers don't come any bigger than Engelbert Humperdinck's. One would be hard pressed to find anyone who isn't familiar with his multi-platinum selling hits such as "Release Me", "The Last Waltz" or "After the Lovin'". These and many other of his hits have contributed greatly to 150 million worldwide album sales by the "King of Romance", as Engelbert is lovingly nicknamed by his legion of fans. Just having entered a new decade of his life, the very youthful Engelbert is also celebrating his 50th year in showbiz with the release of a brand new album 'The Man I Want to Be'. Not content with being a legacy artist, Engelbert demonstrates effortlessly with this album (his first album of original material in over a decade), that he is very much a relevant artist for today's audiences as he has been over the last five decades of his career.
About OK! Good Records:
OK! Good Records is a genre independent record label established in 2010 to distribute, market, and promote artists and music that defy boundaries, reject limitations, and transcend the ordinary. They champion and celebrate independent music, thought, art, expression, and enterprise. http://www.okgoodrecords.com