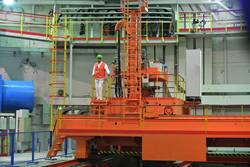 San Diego, CA (PRWEB) February 01, 2018
Diakont's safety-related digital control systems were recently integrated into new nuclear plants and in Q4 2017 started initial operations. First fuel was successfully loaded at the new nuclear generating stations at Rostov (Unit 4) on December 6, 2017 and at Leningrad (Block 2, Unit 1) on December 12, 2017, marking the beginning of startup operations at these new PWR (VVER) generating units. Both of the nuclear power plants are operated by Rosenergoatom.
The fuel loading operations were completed by fuel handling machines controlled by the newest generation of Diakont's innovative digital control systems. The control systems designed by Diakont have a distributed structure, wherein safety and control functions are performed by completely hardware-independent subsystems. The scope of safety protections and interlocks meet or exceed all current Russian and European requirements for operational safety and efficiency. The fuel handling machines also feature integrated Diakont fuel sipping inspection, underwater collision prevention, and radiation-tolerant CCTV video systems.
With Diakont fuel handling machine equipment and control systems, reactor refueling is typically conducted in a fully-automated mode, resulting in refueling time being substantially shorter than when using legacy machines limited to manual or semi-automatic modes. This results in shorter outage periods, and therefore increased capacity factor, and increased station profitability.
About Diakont
Diakont is a leading designer, manufacturer and provider of high-technology products and services for the nuclear power industry, providing plant systems and radiation-tolerant CCTV cameras, as well as inspection, maintenance and repair services for plants of all designs. With a mission of enhancing safety while improving the overall efficiency of the nuclear industry, Diakont has been deploying state-of-the-art solutions and providing world-class service to solve inspection and repair challenges for over 25 years.