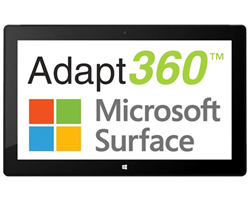 improved efficiency with paperless forms
ORANGE COUNTY, Calif. (PRWEB) January 31, 2018
Adapt360 launches a new service to help government agencies go paperless. City and county staff utilize paper forms for data collection in the field. Citizens fill out paper forms in government offices. Adapt360 converts the paper forms to web-based forms compatible with desktop and mobile devices. Offline native apps are available for offsite use on Microsoft Surface Pro, iPad or Android tablets.
Services

Paperless - Paper to electronic form conversion
Surface Pro – Microsoft Surface Pro mobile app development
iPad/Android – Custom mobile app development
Offline – Offline capable, native mobile app development
Cloud – Web-based, hosted solutions
Full Service – Design, development, data hosting and support
Forms – Paper conversion and electronic form builder with PDF, Excel and Word output
Formatted – Custom formatted PDF forms and reports to match each agency's format
Data Collection – Inspection and survey apps
Database – Offline, Surface Pro database synchs with hosted SQL database
Microsoft – Windows 10, Windows mobile app, .NET, ASP.Net and SQL
Integration – Integrate with existing government software and databases
Analytics – Run data analytics and custom reports
About Adapt360
Adapt360 is a software development company serving corporate and government clients. The firm develops custom software applications using web, database and mobile technologies. The programming team develops custom web applications and software to automate a wide range of business tasks according to client specifications, with emphasis on Microsoft .NET, ASP.NET and SQL development. The company also develops custom mobile applications that interface with .NET and SQL back end solutions.