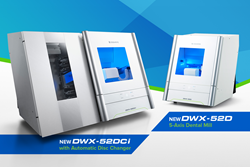 Every feature and component of the DWX-52DCi and DWX-52D have been designed with the needs of our customers in mind. – Dwight Blair, Roland DGA Dental Product Manager
Irvine, California (PRWEB) February 01, 2018
Roland DGA has announced the introduction of two innovative DGSHAPE 5-axis dental milling machines: the DWX-52DCi automatic disc changer model, with new DWINDEX software for monitoring operations and productivity at a glance, and the DWX-52D with value-added upgrades to the industry-standard DWX-51D.
Since their introduction in 2010, DWX-series dental milling machines have gained widespread popularity, and in a recent Key Group study, Roland DGA was recognized as the overall market share leader in CAD/CAM systems for North America. DWX mills are known for their desktop size, user-friendliness, robust reliability and open architecture, which has contributed to the digitalization of dental restorations worldwide. The new DWX-52DCi and DWX-52D mills add exciting new features and capabilities that further automate and streamline workflow for maximum profitability and efficiency.
The DWX-52DCi features an Automatic Disc Changer (ADC) that optimizes productivity by storing up to six discs of different materials and enabling discs to be replaced automatically during milling. In addition, the DWX-52DCi supports new DWINDEX performance visualization software that provides reporting on operation time, materials used and other deliverables.
According to Dwight Blair, Roland DGA's Dental Product Manager, DWINDEX was developed to simplify information gathering and decision making for busy lab managers. "This powerful software offers a host of useful tools, including features that make it easy to track material usage and determine when burs need to be replaced."
Also joining the DGSHAPE product lineup is the new DWX-52D – a next-generation dental mill equipped with advanced features designed to help labs increase overall efficiency. The DWX-52D boasts a new snap-in clamp system that makes the setup of various materials faster and more secure, saving time and improving performance.
The DWX-52DCi and the DWX-52D incorporate the latest dental technologies available, including an Automatic Tool Changer (ATC) for fully automated 5-axis milling of a wide range of materials, such as zirconia, PMMA, PEEK, CoCr Sinter Metal, fiber-reinforced resins, composites, and all other standard milling materials. Typical applications range from crown and bridge to surgical guides, denture bases and more. Both models feature rigid frame construction, automatic calibration, and other advanced features that ensure optimum performance, reliability and convenience.
Other noteworthy DWX-52DCi and DWX-52D features include a Virtual Machine Panel (VPanel), which allows users to quickly configure settings for up to four machines from a single computer for high-volume production, while also providing automatic calibration and other maintenance functions.
"Every feature and component of the DWX-52DCi and DWX-52D have been designed with the needs of our customers in mind," noted Blair. "Because these state-of-the-art mills are so simple to install and use, they can be up and running for labs shortly after being taken out of the box. Both mills can be used with CAD/CAM software dental technicians are already familiar with, allowing for easy integration into existing workflows with a minimal learning curve."
To learn more about the new DWX-52DCi, visit http://www.rolanddga.com/dwx52dci. For more information on the new DWX-52D, visit http://www.rolanddga.com/dwx52d. Information on the complete DGSHAPE by Roland product lineup can be found at http://www.rolanddga.com/dental.
About Roland DGA Corporation
Roland DGA Corporation serves North and South America as the marketing, sales and distribution arm for Roland DG Corporation. Founded in 1981 and listed on the Tokyo Stock Exchange, Roland DG of Hamamatsu, Japan is a worldwide leader in wide-format inkjet printers for the sign, apparel, textile, personalization and vehicle graphics markets; engravers for awards, giftware and ADA signage; photo impact printers for direct part marking; and 3D printers and CNC milling machines for the dental CAD/CAM, rapid prototyping, part manufacturing and medical industries. To learn more about Roland DGA, visit https://www.rolanddga.com.
About DGSHAPE Corporation
DGSHAPE Corporation was formed in 2017 by Roland DG Corporation as a wholly-owned subsidiary to develop and market the company's innovative 3D products, including DWX mills and DWP 3D printer for the dental industry, MPX photo impact printers and EGX engravers for the industrial labeling and personalization industries and MDX and monoFab™ series of desktop milling machines for the rapid prototyping, manufacturing and hobby industries. The company's products are distributed worldwide. To learn more about DGSHAPE Corporation, please visit http://www.dgshape.com.