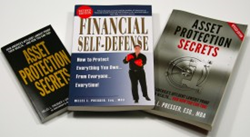 For every 60 minutes you spend making money, spend 60 seconds thinking about how to protect it!
Boca Raton, Florida (PRWEB) February 01, 2018
Domestic Asset Protection includes strategies that are utilized within the United States. Domestic Asset Protection strategies include financial exemption planning, domestic Limited Liability Companies ("LLC"), Domestic Limited Partnerships, etc. Before the advent of the Limited Liability Company ("LLC"), the Corporation was the only realistic entity for the business owner from an Asset Protection standpoint. At that time, the choice was between the S Corporation and the C Corporation. Now the Limited Liability Company is the third and most prevalent option and plays a large part in most Asset Protection Planning.
1. S Corporation and C Corporation Defined.
An S Corporation is a hybrid entity choice that needs an affirmative election with the IRS ("S Election"). An S Corporation may be elected using either the LLC or the Corporation ("Inc.") state legal entity structures. If a Corporation incorporated as an "Inc." or "Incorporated" does not elect to become an S Corporation then, by default, it is a per se C Corporation. One major difference between the two entities is that there are several limitations on ownership of shares in the S Corporation that does not apply to C Corporations, which are described below. Also, S Corporations enjoy single taxation (like Partnerships), whereas, C Corporations have double taxation.
2. Comparison of the C Corporation and the S Corporation
In the past, most small businesses elected the S Corporation tax status over the C Corporation tax status due to its inherent tax benefits (no double taxation). The S Corporation is an eclectic mix between the traditional Partnership and the C Corporation (since it takes some of its traits from both entities). Some Corporations remain C Corporations because they intend on having a large number of shareholders, a diversity of shareholders and/or they intend on taking the company to the public market.
3. The S Corporation Shareholder and Ownership Limitations
The S Corporation has major Shareholder limitations that prevent it from being scaled in the same way as a C Corporation. Specifically, the S Corporation is limited to one-hundred (100) unrelated shareholders. The C Corporation, of course, carries the burden of double taxation, which must be offset by deductible expenses (salary, bonuses, etc.). The compensation also has to be reasonable and not too high as to mimic a single level of taxation. Also, non-resident aliens may not be shareholders in S Corporations.
4. Reasons why the S Corporation is not the Best Choice for Asset Protection
From an Asset Protection viewpoint, the S Corporation may be the worst entity to own. In general, if you own shares in a Corporation in your personal name, and you are sued personally, a creditor can come after the shares in your Corporation. It is much more difficult to protect S Corporation shares than C Corporation shares. For example, C Corporation shares can be protectively titled to Limited Partnerships, Irrevocable Trusts and/or other legal entities that provide layering. However, these methods are unavailable to protect S Corporation shares because of the S Corporation's ownership restrictions. Specifically, S Corporations can ONLY be owned by single-member domestic or international LLC, certain Trusts and non-foreign individuals. There are also certain intricacies with regard to S Corporations in community property states (such as California).
The Presser Law Firm P.A., Asset Protection Attorneys, represents individuals and businesses in connection with the establishment of comprehensive Asset Protection plans that incorporate both domestic and international components.
Visit the Law Firm's Visit the Law Firm's website (http://www.AssetProtectionAttorneys.com) for access to educational material on asset protection, business law, estate planning, and probate including webinars, articles and detailed legal explanations.
Contact The Presser Law Firm, P.A., Asset Protection Attorneys for a Complimentary Preliminary Consultation with one of our attorneys or to receive complimentary copies of our latest best-selling books on Asset Protection.
"For every 60 minutes you spend making money, spend 60 seconds thinking about how to protect it!" states attorney Hillel L. Presser, Esq., MBA regarding the importance of protecting your assets proactively.