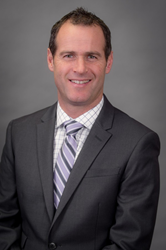 One of our goals is to build the best possible professional and experienced teams here at Bekins Kelowna and in adding Joe to our sales team we have easily succeeded in doing so.
KELOWNA, Canada (PRWEB) February 01, 2018
Joe Gagnon has already scored an impressive goal since he joined Bekins Moving & Storage Kelowna as its new Vice President of Sales and Marketing. In December, four months after starting his position as Vice President of Sales and Marketing, Gagnon announced the Kelowna moving company had become the official movers of the Kelowna Rockets hockey team.
The Rockets' announcement is only the beginning of Gagnon's ultimate goal, which is to have the Bekins' brand on the minds of everyone and anyone needing moving and storage services in Kelowna and the surrounding area.
"You only get so many chances, so you have to make sure your collateral is in place. We are working with media agencies to increase our print and digital identification. There is also our deal with the Kelowna Rockets as a way of increasing our brand recognition. There is usually a one-year horizon before you really start seeing fruit from those efforts," says Gagnon.
Born and raised in the small town of Howick, Que., located 50 kilometres southwest of Montreal, Gagnon has been involved in the moving business for more than two decades.
He is the former owner of Westmount Moving and Warehousing, based in Lasalle, Que, and before that worked for nine years as VP of Sales with AMJ Campbell.
Gagnon purchased Westmount Moving in 2003 when it was a fledging boutique company.
"It was a great learning experience and I was able to achieve some accomplishments that I can be proud of," says Gagnon.
Those accomplishments include moving the company from earning $600,000 in annual sales to $14 million, and being listed by the PROFIT 500 as the fastest growing company in Canada for three years straight.
"We grew it from six employees to 170 employees. We built a strong culture of home for a lot of employees. We worked hard and played hard," says Gagnon. "We had a lot of corporate accounts, including CP Rail. We helped executives and managers with their long distance moving needs. We were moving people all over the world. At one time, we had 150 containers on the ocean."
With his business partner, Larry Smith, a conservative senator and former publisher of The Montreal Gazette, VP of Labatt's, and President of the Montreal Alouettes football team, Westmount opened full service locations in Ottawa and Kitchener-Waterloo and became the official movers of the Montreal Canadiens, the Ottawa Senators, Montreal Alouettes, and the Kitchener Rangers OHL team.
"The idea behind the Rockets mimicked what we did with Westmount and the Montreal Canadiens," adds Gagnon.
Gagnon sold Westmount in October, 2016 and it was while tying up loose ends with the sale that he met Bekins Kelowna General Manager Nathan Miller at a United Van Lines' conference.
"I got the chance to sit down with Nathan and discuss the possibility of joining the team in Kelowna. I was really happy with his business acumen and his desire to make Bekins the best it can be," says Gagnon.
"One of our goals is to build the best possible professional and experienced teams here at Bekins Kelowna and in adding Joe to our sales team we have easily succeeded in doing so," adds Miller.
With the right combination of attitude and skill, Gagnon sees Bekins growing into other centres.
"Bekins has a long history. The brand has been around forever. My role is to help business procedures and improve quality standards for the company. I will do the same for Bekins as did with my own company," he says. "We also have the networks. Being a member of United Van Lines and having agents across the country gives us the opportunity for our commercial movers to handle big jobs, which makes us different from other moving companies in Kelowna."
-30-
For more information, please contact:
Joe Gagnon
Vice President, Marketing and Sales
Bekins Moving & Storage Kelowna
info[at]bekinskelowna[dot]com
250-766-1966
http://www.bekinskelownamovers.com
About Bekins Moving & Storage Kelowna:
One of the most trusted moving companies in Kelowna and part of the oldest moving franchise in Western Canada, with six branches all over BC, Bekins Moving & Storage Kelowna offers all-inclusive moving services in and around the Okanagan and beyond. Bekins Kelowna movers are available for businesses needing to relocate or renovate, while long distance moving services are available through Bekins' affiliate United Van Lines, which has more than 200 locations across North America.