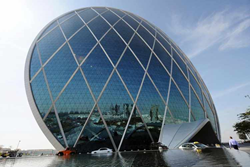 Our commitment towards this partnership goes a long way in enabling LuLu Exchange and its partners onboard to a more efficient and cost effective global blockchain remittance network - said Raj Chowdhury, MD, HashCash Consultants
SAN FRANCISCO (PRWEB) February 02, 2018
LuLu Exchange, a major money exchange house in the Middle East has joined California based HashCash Consultants Blockchain network, HC NET.
HashCash Blockchain products enable enterprises to move assets and settle payments across borders in real-time at fraction of current cost. Banks, Corporate houses, Domestic payment networks, Fintech companies and Currency exchanges use HC NET for Retail Remittances, Corporate Payments, Trade Finance and Payment Processing. The network uses HCX as its native currency.
In a series of recent alliances with bank and exchange houses, HashCash announced the participation of several dozen financial organizations to the HC NET last year.
With these new partnerships, HC NET is able to support remittances in Australia, New Zealand, Canada, Mexico, Brazil, Middle East region, Indian subcontinent, Nigeria, Kenya, Philippines, Russia, Singapore and few other corridors.
Lulu Exchange primarily deals with foreign exchange, money transfer and salary administration. HashCash offers a forex deals marketplace for currency exchanges and handles corporate payments along with retail remittances. With this alliance, LuLu exchange reinforces its lead as an implementer of blockchain technology among global exchange houses and financial organizations.
"Our commitment towards this partnership goes a long way in enabling LuLu Exchange and its partners onboard to a more efficient and cost effective global blockchain remittance network", said Raj Chowdhury, Managing Director at HashCash Consultants.
LuLu Exchange had been investing significantly in Blockchain technology. It enables the exchange to do low cost, instant payments. With a network of Banks, Exchanges and Wallets in 26 countries, HC NET allows LuLu access to newer corridors and currencies.
About LuLu Exchange:
LuLu International Exchange is a non-banking financial organization and is a leading name in financial service sector, primarily dealing in foreign exchange, global money transfer and salary and wage administration. LuLu International Exchange has its global headquarters in Abu Dhabi and operates across UAE, Oman, Kuwait, Bahrain, Qatar, India, Seychelles, Philippines and Bangladesh.