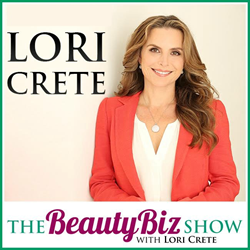 "People don't think of skincare as healthcare, but when you're truly taking care of your skin then you are protecting every organ in your body from damage from the environment." – Dr. Murad
Los Angeles, CA (PRWEB) February 06, 2018
Lori Crete, a finalist for American Spa Magazine's 2017 Women in Wellness Mentor of the Year, recently interviewed Dr. Howard Murad, a respected dermatologist, founder of the Murad product line, and an innovator in youth building and wellness, for her popular iTunes podcast, the Beauty Biz Show. Lori and Dr. Murad discussed the four factors responsible for the accelerated skin aging experienced by individuals in today's fast-paced world: "Cultural Stress", exposure to blue light from smartphones and other electronic devices, lack of sleep, and dehydration.
Dr. Murad discussed what he calls "Cultural Stress", which is the stress caused by our increasingly digital world, our disconnection from our families and other human interaction, the increasing demands on our time and energy, and our unrealistic desire for perfection. He believes this stress is a major contributor to the aging of the skin and other body systems.
Dr. Murad told Lori that he believes that skincare professionals and others in the spa industry are in position to help fight this "Cultural Stress" and that by helping clients relax and slow down, spa industry professionals are helping to fight aging and improve overall health. Because of our increasing reliance on technology and our lack of face to face human interaction, Dr. Murad thinks that the touch provided during spa treatments is uniquely healing and is the way of the future.
Lori and Dr. Murad also discussed his career path and how he arrived at being a celebrity dermatologist, entrepreneur, and a creator of a global skincare line. Lori asked Dr. Murad for success tips for today's beauty business practitioner, to which he responded, "Become yourself and love yourself and don't be afraid to fail."
ABOUT LORI CRETE & THE BEAUTY BIZ CLUB™:
A finalist for American Spa Magazine's 2017 Women in Wellness Mentor of the Year, Lori Crete is a highly sought after industry expert and licensed celebrity esthetician. Owner of Southern California's Spa 10, she is also the founder of The Beauty Biz Club™, a success-based society dedicated to helping beauty practitioners around the world fill their schedule, increase profits and break through to the 6-figure mark.
Quoted as "Top Celebrity Esthetician" by Guthy-Renker and labeled a "Beauty Guru," by ExtraTV.com, Lori also is the creator and host of the highly rated iTunes podcast, The Beauty Biz Show. She has been featured on KESQ Health and News, MTV, ABC, CBS Evening News and Fox 11. Lori also leads the Beauty Biz Workshop Retreat™, a sold-out 2-day event fostering community and guidance for beauty business practitioners.