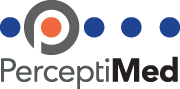 "Our clients continue to see the value of our technology, and the re-deployable labor hours that it gives them, as well as the opportunity to easily use the system to return to stock from an inventory perspective."
MOUNTAIN VIEW, Calif. (PRWEB) February 02, 2018
PerceptiMed, the leader in pharmacy technology in delivering the right prescription to the right patient, every time, has announced that its year-end audit resulted in users of the technology experienced zero errors of prescription medication in 2017.
PerceptiMed technologies reduce human errors in prescription dispensing at pharmacies. The point-of-sale will call solution, scripClip, ensures that the right prescription gets into the hands of the right patient, every time, and maintains 100% chain of custody that prevents any tampering of the product.
scripClip uses advanced wireless technology to quickly identify prescriptions in will call areas in either hanging or paper bag packaging, saving pharmacy personnel time, avoiding HIPAA challenges and creating inventory optimization, while eliminating the possibility of human error. Pharmacy customers experience enhanced service due to faster prescription retrievals, the elimination of misplaced prescription bags and the elimination of harmful errors caused by receiving the wrong prescription. scripClip is currently in commercial use and available for immediate shipment.
"The scripClip application has changed the way that our pharmacy functions," stated PerceptiMed client, John Lykins, who uses the technology at Lowell Pharmacy in Arkansas. "The technology has allowed us to spend less time searching for prescriptions, ensures that we are giving the right prescription to the right patient, and has freed up the time of our staff to spend with our customers."
At Purdue University, where scripClip has been used for over two years, Nicole Noel, the Director of Pharmacy Operations stated, "We love the scripClip system. It has greatly reduced our time in finding prescriptions in a very busy pharmacy on a University campus. We appreciate the fact that the technology eliminates the need for us to worry about duplicate names and ensures that we are giving the right prescription to the right person."
"This has been a monumental year in our growth," stated Terry Cater, Senior Vice-President, Sales and Marketing of PerceptiMed, "Our clients continue to see the value of our technology, and the re-deployable labor hours that it gives them, as well as the opportunity to easily use the system to return to stock from an inventory perspective."
About PerceptiMed
PerceptiMed, Inc. is a leading edge pharmacy and healthcare technology company founded in 2011 by Dr. Alan Jacobs. Based in Silicon Valley, PerceptiMed products are specifically designed to eliminate human errors in medication dispensing in pharmacies, long-term care facilities and hospitals. PerceptiMed is driven to make the dispensing and administration of prescription drugs safer, reducing injuries and death.