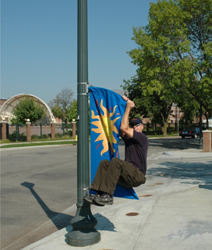 (PRWEB) February 03, 2018
Introducing the new KBW RoundPro™ Fiberglass Arms – only from BannerFlex!
The new proprietary round fiberglass arms are a different composition than others on the market. This new arm has higher flexural and compressive strength and provides from 12% to 23% more bending to decrease wind force on the utility pole, depending on banner size and wind velocity. The new arm is available in various sizes for each of the three BannerFlex models. This type of arm is a full round arm, .75" (19mm) diameter and is now standard on all BannerFlex brackets except the premium Airow® model. The Round Pro is released in various lengths from 19" to 37" for banner widths from 18" to 36". Longer arms are available upon special order. The new RoundPro™ arm is offered in both standard off-white and black. The Round Pro carries a warranty of 12 years which is the longest warranty in the industry.
The new RoundPro™ joins the other unique, durable and dependable BannerFlex products, such as:
The Premium Airow® Arms –Another BannerFlex exclusive product.
This innovative arm is manufactured only by KBW/Consort for our BannerFlex line. No other brand of banner bracket hardware offers this unique and proven wind-force-reducing option. When viewing the bannerflex.com website the "Resources" tab displays a "Wind Force Calculator" and also "Videos" for more information on this unique product. With the Wind Force Calculator, you can compare the wind reduction of the new RoundPro™ arms to the Airow® arm. The Airow arm is powder coated in medium gray color.