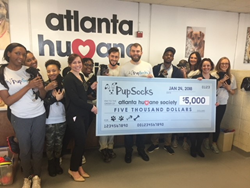 PupSocks is thrilled to give back to the Atlanta Humane Society," said Zach Zelner co-founders of Pup Socks.
ATLANTA (PRWEB) March 02, 2018
PupSocks, a new Atlanta based company is off to an incredible start, selling more than 200,000 pairs of customized socks in the first 6 months of business. Capturing the image of family pets, these popular decorative socks are all the rage.
Since starting the business, the PupSocks founders wanted to give back to community organizations who love and support precious pets. The Atlanta Humane Society is one of the organizations which received support from PupSocks. Employees of PupSocks were on hand on Wednesday, January 24th at the Howell Mill Campus of The Atlanta Humane Society to clean cages, feed the dogs and cats, bathe the incoming puppies, and to present a check to Development Manager Caitlin Costello and Development Coordinator Allison Ax.
With an outpouring of affection for pets, the team was joined by Co-founders Todd Stephenson and Zach Zelner. "From the beginning we envisioned providing personalized items to pet lovers while also remaining committed to supporting non-profits, such as The Atlanta Humane Society," said Stephenson. "Being able to donate a $5,000 check aligns with our mission but it was even more fulfilling to help volunteer, assist in everyday tasks, and interact with the other volunteers. As we continue to expand our collections we will continue to assist animals in need."