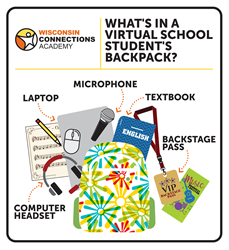 At WCA, students are able to pursue their passions while receiving a great public education. Our students include athletes, entrepreneurs and aspiring singers—so many families turn to WCA because they're seeking a flexible learning environment
APPLETON, Wis. (PRWEB) February 05, 2018
Enrollment at Wisconsin Connections Academy (WCA), one of the state's first full-time, tuition-free virtual public charter school for all Wisconsin K-12 students, is now open for the 2018-19 school year. The Wisconsin Department of Public Instruction requires that all families who wish to enroll their children outside of their district complete the Wisconsin Department of Public Instruction application by 4:00 p.m. on April 30, 2018 for the following school year.
WCA brings exceptional teachers and top educational resources to students who need flexible scheduling, pacing, individualized attention, or who live in rural areas. The school serves more than 450 K-12 students throughout Wisconsin and requires students to meet the same state standards as their traditional school counterparts.
"At WCA, students are able to pursue their passions while receiving a great public education. Our students include athletes, entrepreneurs and aspiring singers—so many families turn to WCA because they're seeking a flexible learning environment," said Michelle Mueller, WCA principal. "We also know that each and every student has unique abilities, so we provide a nurturing learning environment by giving students individual attention."
In a recent parent satisfaction survey conducted by WCA, 98 percent of parents would recommend WCA to parents whose children are not enrolled in the program, 93 percent said their children are enjoying the program and 98 percent agreed that the curriculum is high quality.
"At WCA, we can be confident that our children are receiving a high-quality education, along with the ability to work at their own pace," said Jane Kummer-Meyer, a parent of WCA students. "WCA has qualified, licensed teachers who work with our children throughout their educational journey. Through this school, our boys receive the additional help they need in areas where they experience difficulties and are able to move ahead where they excel."
WCA will hold several in-person and virtual information sessions where prospective students and families can learn more about the school and virtual education in general. Interested families may also attend parent-to-parent meetings for the opportunity to speak with current WCA families, and have access to an on-demand session. More information about the sessions can be found by visiting http://www.WisconsinConnectionsAcademy.com/Events.
The enrollment period runs from February 5 until April 30 at 4:00 p.m. Parents interested in learning more about WCA or enrolling their child can visit http://www.WisconsinConnectionsAcademy.com/Enroll or call 920-993-7076.
About Wisconsin Connections Academy
Wisconsin Connections Academy (WCA) is a tuition-free K–12 public online school that students attend from home. The institution brings public education and top educational resources directly to your family's door—anywhere in Wisconsin. With high-quality teachers, WCA helps each student maximize his or her potential and meet the highest performance standards through a uniquely individualized learning program. For more information, call 920-993-7076 or visit http://www.WisconsinConnectionsAcademy.com