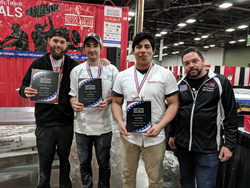 Words can not describe how I feel, so much work was put into this and it is so surreal
COLUMBUS, Ohio (PRWEB) February 01, 2018
The U.S. Pizza Team held its 2018 Winter Athletic Trials at the Mid-America Restaurant Expo. Pizza athletes from coast to coast came together to vie for the title of best in the midwest. Events included the Largest Dough Stretch, Fastest Pie Maker, Fastest Box Folder and the ever-impressive Freestyle Dough Acrobatics.
First place in Freestyle Acrobatics went to Michael Reyes-Casanova of Ynot Italian in Virginia Beach, VA. Reyes-Casanova took home the grand prize of a trip to compete with the U.S. Pizza Team in the World Pizza Championships in Parma, Italy, in April.
"Words can not describe how I feel, so much work was put into this and it is so surreal," said Casanova-Reyes right after winning the trip to compete in Italy.
Longtime U.S. Pizza Team competitor Ryan LaRose of Leone's Pizza in Columbus, OH, grabbed second. Third place went to David Calderon of Mombo's Pizza in Santa Rosa, CA.
Top competitors in the Largest Dough Stretch were:
Ryan LaRose (31.5" wide)
Wilhelm Rodriguez (31 1/16" wide)
Nate Wilson (30 ⅞" wide)
Fastest Pie Maker scores were:
Rick Wheeler (41.79s), Mad Mushroom, West Lafayette, IN.
Wilhelm Rodriguez (43.44s), Papa's Pizza/Campioni Pizza Bar Y Tapas, Puerto Rico
Matt Hickey (48.84s), Caliente Pizza and Draft House, Pittsburgh, PA.
Fastest Box Folder went to:
Tiffany Westfall (27.27s), 600 Downtown, Bellefontaine, OH.
Michael Reyes-Casanova (29.88s)
Matt Hickey (30.53s)
The U.S. Pizza Team is sponsored by American Baking Systems, Paradise Tomato Kitchen, Gordon Food Service, Grain Craft, Real California Milk, La Nova, SoFo Foods, Bag Solutions, Fontanini, Marsal & Sons, Lillsun, Lloyd Pans, Pivetti, Presto, and Univex
For more information about this event or the U.S. Pizza Team, contact Brian Hernandez at 662-234-5481 x 129, brian(at)pmq(dot)com, or visit http://uspizzateam.com/.