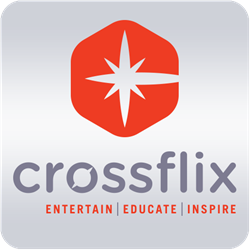 "Crossflix aims to help our nation's pastors provide faith-based programming at a very affordable price. We want every youth to have a real choice in the content they watch without being asked to sacrifice their Christian values and the teachings of the Bible."
FT LAUDERDALE, Fla. (PRWEB) February 06, 2018
Crossflix, the faith-based digital streaming app that's been branded by its users as the Christian alternative to Netflix, announces today a plan to form a nationwide partnership with churches in order to deliver wholesome, faith-based video content to inspire today's Christian youth. Under this new Ministry Outreach Program, Crossflix will contribute 50% of a congregation's regular monthly or annual subscription fees for any church or ministry that wishes to share Crossflix with its members. In addition, a special discounted price will be extended to every church or ministry enrolled in the program.
Crossflix Co-founder Aileen Rodriguez explains that the religious streaming service was founded after witnessing a troubling change in Hollywood where Christian values were no longer being represented. According to Rodriguez, "Modern media is filled with mixed messaging about family and relationships, ignoring many Christian values such as faith, kindness, obedience, and compassion." While she did not name any specific production outlets, Rodriguez shares that she feels Christianity is under attack in virtually every aspect of our youths' lives.
"Our youth today have poor influences coming from everywhere," shares Rodriguez. "From social media to internet celebrities to today's 'family-friendly' television shows and movies, our young adults are continually exposed to poor role models. Things like pre-marital sex, violence, treating others poorly, and bad decisions have become far too common of a theme in Hollywood."
Co-founder and CEO Alan Mehrez, a Harvard-educated entrepreneur, is well known as a successful producer and director of the "BLOODSPORT" franchise and several other major projects. His films have been released by Warner Brothers, Lionsgate, HBO, and many other studios, including many international licensing deals. While Mehrez retired from producing Hollywood movies over a decade ago, he is still highly respected in the industry and his connections have allowed him to negotiate many exclusive licensing deals on high-budget Christian productions.
"Crossflix aims to help our nation's pastors provide faith-based programming at a very affordable price," continues Mehrez. "We want every youth to have a real choice in the content they watch without being asked to sacrifice their Christian values and the teachings of the Bible."
Crossflix recently wrapped production of its original series "The Living Bible," which consists of 50 half-hour episodes. More original movies and television series are currently in the works as well. The faith-based provider has also partnered with major studios and distributors such as Green Apple Entertainment, Vision Video, and Bridgestone Multimedia Group. They currently offer thousands of movies, documentaries, animated titles, and other collections within their quickly growing library.
"As a leading provider of quality, independent entertainment, we are thrilled to have licensed 16 of our faith and family films for the launch of Crossflix," states Joshua K. Carpenter, Head of Global Acquisition and Sales for Green Apple Entertainment. "Their OTT subscription service made available across an array of devices positions themselves to scale their audience and become a leader in the faith and family marketplace. We're excited for their leadership, their future and our continued alliance for positive and uplifting content."
Some of the more popular titles recently added to the Crossflix platform include "Revive Us" with faith-audience superstar Kirk Cameron, "Like a Country Song" with Billy Ray Cyrus, "War Flowers" with Christina Ricci and Tom Berenger, the animated hit "Lamb of Judah," "Princess Cut," plus several new Christmas-themed big budget films from major distributors. Dozens of new titles are added weekly for existing members and the response so far has been overwhelmingly positive.
"My husband, Alan, and I are very passionate about serving God and our Christian community to the best of our ability. This is truly a project of love," shares Rodriguez as she talks about her Christian faith. "My goal is to find a way to get Crossflix in the hands of every Christian in the nation and beyond…that's why we're offering this new program to every church."
"Technology has changed everything about our nation's youth and how they interpret the world around them," says Rodriguez. "Crossflix is a powerful tool for the Christian community to help us all stay on the right track with faith-based stories and inspiration. I am very excited about the projects we're launching in 2018 and beyond."
Churches and Christian Ministries can enroll in the Crossflix Ministry Outreach Program online at https://crossflix.com/ministries/ or by calling (954) 228-7488.
About Crossflix
Crossflix is a Christian Digital Internet Television Network delivering the best in faith-oriented streaming content, focused on entertainment, education, ​and inspiration. Crossflix both licenses and produces films, documentaries, animated series and teaching products, including a groundbreaking 50 episodes of "The Living Bible Series". Launched by industry veteran Alan Mehrez, Crossflix meets the strong consumer demand for a quality destination for faith and family programming. A subscription-based platform, Crossflix is currently available on Roku, Apple TV, Amazon Fire, Google TV, Google Play, Google Chromecast, and on the Internet at http://www.Crossflix.com.