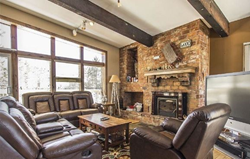 TORONTO, Canada (PRWEB) February 03, 2018
Visit Blue Mountain offers vacation accommodation options such as chalet, cottage, condo and lodge rentals, to serve all guests with quality accommodations.
By staying within any of the VisitBlueMountain vacation properties, guests are a very short walk or drive to Blue Mountain Resorts, just a short drive to Northwinds Beach, which offers white sand on the open waters of Georgian Bay. Additionally, guests are only minutes away from Scenic Caves, Scandinave Spa, and many other exciting attractions in the Georgian Bay region. VisitBlueMountain is your quality host for your weekend ski and snowboard getaway with family and friends, and Blue Mountain is known to be one of the most breathtaking and most popular vacation destinations in Canada. VisitBlueMountain is able to ease the hassle of finding a cottage for rent for the following upcoming events: Valentine's Day Romantic Getaways February 14, 2018, Family Day Weekend February 16-19, 2018, and March Break March 11-17, 2018.
Blue Mountain has become the four-season destination of the North, visited by more than 2.0 million guests a year. For people looking to get outside and enjoy the sights and various sports activities Ontario has to offer, VisitBlueMountain definitely delivers high quality vacation accommodations here at Blue Mountain. As the largest mountain village resort in Ontario, Blue Mountain offers a wide array of attractions to their guests such as skiing and snowboarding. Blue Mountain Resort is one of the largest resorts in Canada and has been extensively built out featuring 42 runs, 16 chairlifts, and 3 freestyle terrains. Blue Mountain Resort has recently undergone major renovations, including new high-speed lifts, and a pedestrian "Village" similar to those built at Tremblant and Whistler at its base.
Other things to do while staying with VisitBlueMountain include snowshoeing, tubing, ice skating, ice fishing, and cross country skiing. A company spokesperson states, "Whether you're looking for family active, extreme, or rest-and relaxation activities, Blue Mountain Activity Central is a great starting point, It features year-round activities from snowmobiling, snowshoeing, cross country skiing, and ice fishing to back country caving, horseback riding and more."
The company spokesperson adds, "If you're thinking of coming to Blue Mountain Ontario in Canada, simply contact VisitBlueMountain today for cottage, chalet and condo rentals. We will ensure that you are accommodated in the most sufficient and fully fledged cottages and chalets in the region. Visit our slideshare link to get more explaining the benefits of our rental program. Our customer services will also leave you nothing but fully satisfied. In other words, we will offer you a home away from home." Furthermore, the spokesperson says, "At VisitBlueMountain we wish to invite you to come and experience our home here in The Blue Mountains and Collingwood region, in doing so, create your very own memories that will no doubt last a lifetime."
One reviewer recently wrote about their experience at VisitBlueMountain Ontario and said, "So much powder in the first week of January. The longest we waited in line for chair lifts was 5 minutes. Excellent ski conditions. Fresh powder galore! We haven't seen this much snow this early in years. The instructors at the beginner drop lessons were excellent. We had a great stay and highly recommend it for those wanting to stay in the The Blue Mountain Village."
Year-round, Blue Mountain Resorts attracts visitors to more than 1,000 luxury accommodation units, and 45 unique concept restaurants, bars, and retail stores in the Blue Mountain pedestrian Village. Blue Mountain also has added Mountaintop skating and enhancement to their terrain park to give additional space to skiers to get outside and enjoy the upcoming Valentine's Day and March Break season.
About VisitBlueMountain:
Founded in 2005, VisitBlueMountain provides guests with short and long term Chalet, Cottage or Condo accommodations within The Blue Mountains and Collingwood area. The company is owned, operated, and staffed by those that live there regularly ensuring their guests that they are dealing with people who love the incredible region. VisitBlueMountain offers high quality vacation accommodation options here at the foot of Ontario's largest mountain resort, which is on the shores of Georgian Bay, located 90 minutes north of Ontario. During the Summer months we offer the largest downhill mountain biking facility in Ontario, Monterra Golf course, Ridge Runner Mountain Coaster, Cascade Putting Course, Timber Challenge Ropes Course, Wind Rider Triple Zips and a private beach property among other seasonal attractions.
VisitBlueMountain
113 Patricia Drive
Blue Mountains
ON
L9Y-0P1
http://visitbluemountain.com/about/
https://www.facebook.com/VisitBlueMountain
https://twitter.com/VisitBlueMtn