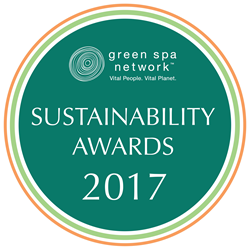 "Proactively caring for the health of our planet and people is what the spa industry has always been about," says Karen Short, GSN Board President, "by recognizing the achievements in spa and sustainability, GSN elevates the awareness of success stories to inspire and create positive change."
ATLANTA (PRWEB) February 02, 2018
The Green Spa Network (GSN) announces its 6th Annual Sustainability Awards, which recognize innovation and leadership by the spa industry in support of a vital planet and vital people. With its annual awards, GSN celebrates the collective contributions to a more sustainable future.
The 2017 GSN Sustainability Award Winners Include:
Sustainable Building Winner: Mohonk Mountain House
Other Finalists Include:

The Omega Center
Spa Anjali at The Westin Riverfront
Innovative Sustainability Initiative Winner: St. Julien (Waste Reduction Initiative)
Other Finalists Include:

Eminence Forests for the Future initiative (GSN Platinum Sponsor)
Blackberry Farm's Agricultural Program
Leadership in Sustainability Winners
Day Spa: Complexions Spa
Other Finalists Include:

Spa Habitat
Hiatus Spa + Retreat
Wellness Center: Spa Anjali, Westin Riverfront
Other Finalists Include:

The Ritz-Carlton, Charlotte, North Carolina
Sunrise Springs, NM
Sustainable Spa Brand Winners
Beauty category: Honua
Other Finalists Include:

Equipment category: Comphy Co.
Other Finalists Include:

Retail category: Lotus Wei
Other Finalists Include:

Zuii Organic
Neal's Yard Remedies
Visionary Award: Paul Hawken
Other Finalists Include:

Dedicated Contributor Award: Michael Bruggeman
Other Finalists Include:

Allan Share
Darren Hickman
Roberto Arjona
Representing both the spa and sustainability industries, along with wellness, hotels, and design, the 2017 GSN Sustainability Awards judges are well-known in the community and have a strong pulse on the change leaders. The independent panel will award winners in four categories: Sustainable Building, Innovative Sustainable Initiative, Leadership in Sustainability by a Day Spa and Resort/Wellness Center, and Sustainable Spa Brand in Beauty, Equipment, and Retail. The GSN Sustainability Awards program also includes a Visionary Award and the Tara Grodjesk Dedicated Contributor Award, which are determined by the GSN Board of Directors.
The 2017 GSN Sustainability Judges are Rona Berg (Editor-in-Chief, Organic Spa Magazine), Julie Keller Callaghan (Editor-in-Chief and Publisher, American Spa Magazine), Debra Duneier (Founder, EcoChi), Glenn Hasek (Editor and Publisher, Green Lodging News), and Ulli Peck (Founder and Owner, The Wellness Agency).
Our awards program celebrates those efforts that positively support building a sustainable future. Nominations were selected by the judges and recommendations were also submitted on the website. Entries were judged on sustainability, innovation, positive environmental and/or community impact, and financial impact. GSN aims to discover, recognize and celebrate significant accomplishments within the spa industry: Share your story and initiatives with us at https://greenspanetwork.org/
About Green Spa Network:
GSN is a non-profit trade association serving the spa industry in support of action for a sustainable future. Their mission is to promote the vital connections between personal wellbeing, economic sustainability and the health of our planet. Through networking, education, and best practices developed with a membership of the nation's most innovative green spas, GSN is a resource for vital people building a vital planet. http://www.greenspanetwork.org
Contact: Jessica Gilden | Business Manager | 800-275-3045 | jessica(at)greenspanetwork(dot)org