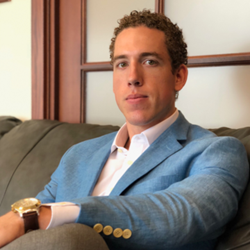 WEST PALM BEACH, Fla. (PRWEB) February 05, 2018
Morgan Stanley Wealth Management announced today that Patrick Nickler, Financial Advisor in the Firm's Wealth Management office in West Palm Beach, has been awarded the Financial Planning Specialist (FPS) designation. A graduate of Palm Beach Atlantic University with honors in Finance, Patrick joined Morgan Stanley Wealth Management in 2015.
The Financial Planning Specialist designation identifies those Morgan Stanley Financial Advisors who have met the experience and ethical requirements, have successfully completed financial planning coursework and have passed the Financial Planning Specialist examination designed to provide Financial Advisors with the expertise necessary to address the wide range of financial issues confronting high net worth individuals, as well as individuals who are aggressively seeking to increase their wealth.
Morgan Stanley Wealth Management, a global leader, provides access to a wide range of products and services to individuals, businesses and institutions, including brokerage and investment advisory services, financial and wealth planning, credit and lending, cash management, annuities and insurance, retirement and trust services.
The Nickler Group is a boutique wealth management team with more than 80 years of collective investment industry experience in personalized financial planning and investment guidance. The Nickler Group offers professional money management striving toward long-term investment growth, personalized financial planning and investment guidance as well as employer sponsored retirement plan rollovers and traditional and ROTH individual retirement accounts (IRA). They are devoted to their client's financial well-being as they create and manage current income plans and retirement income plans, provide Asset Protection, Planning and Investing for college, and service multi-generational clients. For further information about The Nickler Group, please click here.