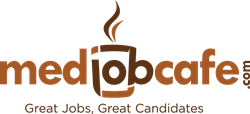 "We wanted to help make the relocation process easier and more efficient from both sides – the candidate or job seeker side as well as the employer and recruiter side." – Laura Fitzsimmons, CEO
RINGLE, Wis. (PRWEB) February 02, 2018
MedJobCafe.com, a company that provides job boards, career path and development services, as well as career fairs to healthcare professionals, announced the launch of a redesigned, easier-to-navigate website. As the largest network of professional healthcare job boards for nurses, dentists, pharmacists, physical and occupational therapists, and biotechnicians, MedJobCafe.com Health Network works to match the nation's best employers and candidates to fill critical healthcare positions. Every day, they strive to help healthcare professionals search for job openings, create professional CVs, receive helpful job search tips and industry news, and much more.
The job boards include:
NursingJobCafe.com
PharmacistJobCafe.com
DentistJobCafe.com
AlliedHealthJobCafe.com
BiotechJobCafe.com
To make the site clearer and easier to use, MedJobCafe.com is refreshing the overall design of each of their job board sites. The goal is to help candidates (job seekers) effortlessly navigate the job search process, and to simplify the hiring and recruiting process for employers and recruiters.
Job seekers will see more streamlined job search features, including a modern candidate dashboard with simple navigation and enhanced account management options. A sleek professional profile puts the job search in the hands of candidates. Plus, candidates can easily perform job matches based on their profile. They'll also have the option to keep their personal information private, or feature their profile in employer search results.
Employers and recruiters will experience a more efficient candidate search experience, including more detailed matching features, and a more robust communication system to find and talk to potential candidates. Once they register, they'll select a price package based on hiring needs and start uploading jobs to find the ideal candidates.
"We wanted to help make the relocation process easier and more efficient from both sides – the candidate or job seeker side as well as the employer and recruiter side." – Laura Fitzsimmons, CEO
The launch is scheduled to begin rolling out across each of the job boards starting this week, so the company appreciates visitors' patience during the full site implementation, which may cause minor site outages.
To learn more about the MedJobCafe.com Health Network, visit http://www.medjobcafe.com. For more information, call 715-803-6360 or email contact(at)medjobcafe(dot)com.
MedJobCafe LLC, R5435 Star Dust Lane, Ringle, WI 54471
http://www.medjobcafe.com | http://www.nursingjobcafe.com | http://www.pharmacistjobcafe.com | http://www.dentistjobcafe.com | http://www.alliedhealthjobcafe.com | http://www.biotechjobcafe.com
715-803-6360 | contact(at)medjobcafe(dot)com