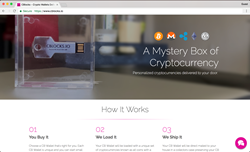 "it's like an art piece that they'll be able to put in their house or office.."
MIAMI (PRWEB) February 03, 2018
Miami startup CBlocks.io has temporarily paused orders for the second time in two weeks following media coverage in Forbes, The Next Web & several other publications. Dubbed "your next favorite mystery box -- for cryptocurrency", CBlocks has temporarily suspended new orders in order to replenish inventory. The company hopes to start accepting orders for CBlock USBs within the next 3-5 days.
It's no wonder that CBlocks has been selling out. Customers in search of a convenient way to collect cryptocurrencies have been flocking to the service. The company provides a simple 3 step process; 1. Decide between the amount your CBlock will hold 2. They load it with 5 random crypto currencies 3. It arrives on an encrypted USB 7-10 days later in a protective acrylic case for public viewing.
"I have been interested in cryptocurrency for some years now in my personal life," said cofounder Auston Bunsen, "but we've realized that the process of getting started was too difficult and fairly risky because you have to trust online exchanges with your private keys."
While Bitcoin & Ethereum took center stage in 2017, investors & enthusiasts have been really excited in the new opportunities in alternative coins (alt-coins). This lesser known but fast growing segment accounts for roughly $11 billion in daily transaction volume. As 2018 unfolds, cryptocurrencies will continue to be a fascination to all of us - at the center will be alt-coins. In fact, a study by Mangrove VC found that investing in every initial coin offering (ICO) would've returned a profit of over 1,320 percent.
Mario Aguayo, cofounder says, "We think this is a no-brainer way to get started in crypto - it's an amazing item that really captures what is happening. Our early customers have said that buying a CBlock isn't just about owning crypto, it's like an art piece that they'll be able to put in their house or office as a conversation starter."
About CBlocks
CBlocks is a Miami based startup founded in 2018 whose mission is to democratize access to cryptocurrencies in a secure, yet easy to use manner. The company provides a simple service that randomizes coin selection from the top 100 cryptocurrencies, loads them on a wallet and ships them to your door. Founding team includes Mario Aguayo, PK Banks & Auston Bunsen.