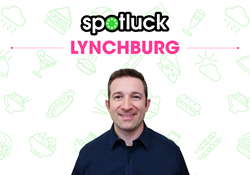 I'm excited to promote eating locally and contribute to a community that means a lot to me.
BETHESDA, Md. (PRWEB) February 02, 2018
Finding great eats in Lynchburg just got a whole lot easier with Spotluck. The top-ranked dining app debuts today with 14 of the area's best local restaurants. Spotluck offers smart dynamic discounts, with savings of 10%-35% off your restaurant bill. Lynchburg is Spotluck's latest stop as it expands along the East Coast. The app works exclusively with locally-owned restaurants and has thousands of partner locations throughout Virginia, Maryland, DC, Delaware, Pennsylvania, New Jersey, Connecticut and New York.
Lynchburg local, Randy Sass, has spent most of his life involved with the local business scene. After the recent downtown revitalization, he knew the timing was right for technology that highlights great local restaurants. "I grew up in the Lynchburg restaurant where my mom worked," Sass said. "I spent my summers there helping her and I have a lot of great memories. I'm excited to promote eating locally and contribute to a community that means a lot to me."
Participating Lynchburg restaurants include Hippo's, Charley's Restaurant, Kegney Brothers, The White Hart, Market at Main, The Yellow Sub, Lola's Mexican Cuisine & Cantina, Big Lick Tropical Grill, Fifth & Federal Station, Main St. Eatery, Pok-E-Joe's, Bulls Steakhouse, The Crown Sterling and El Camino.
About Spotluck
Spotluck brings dynamic pricing to the restaurant industry with a gamified spin. Spotluck pioneered real-time discounts that fluctuate based on day, time, weather and other factors that impact restaurant occupancy. Their software yields higher discounts on rainy Mondays and lower discounts on sunny weekends. Spotluck's gamified spin on deciding where to eat makes the app fun for users, while its proprietary software maximizes occupancy (and profits) for local restaurants through smart discounts that change. Spotluck is currently ranked as a top "dining" app on the iTunes App Store. The app is free for consumers and available on both iOS and Android. More information can be found on http://www.spotluck.com.