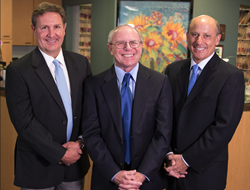 SAN DIEGO (PRWEB) February 05, 2018
The San Diego based Art of Dentistry team, headed by Drs. Lawrence Addleson, R. Douglas Campbell, and David Landau, are using American Heart Month as an opportunity to emphasize the importance of treating untreated gum disease and bleeding gums in San Diego, CA. When allowed to continue without intervention, gum disease can adversely affect cardiovascular health, leading to both chronic and acute medical conditions.
Gum disease affects an estimated 200 million adults in the United States. The condition occurs when bacteria builds within the periodontal pockets between the gums and teeth. Regular at-home care of brushing and flossing cannot destroy the bacteria as it resides below the gum line. However, trained dentists can stop the progress of aggressive gum disease through leading-edge treatments including minimally invasive laser gum therapy.
Advanced laser gum disease treatment effectively eliminates bacteria in the gums and around teeth using gentle laser light. These dental lasers remove the need for scalpels or sutures and cause minimal bleeding in patients. Most cases of gum disease can be treated effectively have a decreased healing and recovery time with the use of dental lasers.
According to the American Academy of Periodontology, gum disease is a systemic, not a focused, condition. Inflammation of the soft tissues and bacteria in the blood stream can make it more difficult for the heart to work efficiently. In fact, some studies have discovered a link between those with gum disease and stroke. People with existing heart disease are especially at risk if they avoid seeing a dentist for maintenance above normal six-month dental appointments.
Only a professional dentist can diagnose and treat gum disease. Therefore, those who experience warning signs including mouth sores, bad breath, and bleeding gums in San Diego, CA, are invited to call The Art of Dentistry at 619- 291-4325 or visit their website at http://www.sandiegoartofdentistry.com. All doctors on staff are currently accepting new patients interested in learning more about periodontal advancements via gentle, comfortable, safe laser dentistry.
About the Practice
Art of Dentistry is a cosmetic dental practice offering patients customized dental care in San Diego, CA. Applying a philosophy that considers the art, science and biology of a smile, Drs. Lawrence Addleson, R. Douglas Campbell and David Landau provide personalized care in a comfortable, family atmosphere. With combined experience of over 85 years, the Art of Dentistry team uses state-of-the-art technology and leading techniques to craft each healthy smile. To learn more about Drs. Addleson, Campbell and Landau or the services they offer, visit their website, http://www.sandiegoartofdentistry.com. To experience the Art of Dentistry difference, call 619-291-4325.