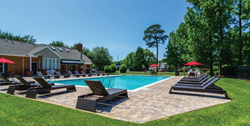 We have managed thousands of apartment communities in our 80-year history and the Courts of Yorkshire downs is truly a hidden gem
YORKTOWN, Va. (PRWEB) February 02, 2018
Courts of Yorkshire Downs apartment community has been a mainstay in Yorktown since 1987. Known for its many amenities, and its superior location, a recent investment will result in a modern transformation of this well-established community. The renovation will include updates to the one, two and three bedroom apartments as well as upgrades to the clubhouse and landscaping. The community will feature all new LED lighting and new energy efficient appliances. With its many amenities including a dog park, club house and fitness studio, the Courts of Yorkshire Downs will soon be considered an even more premier place to live in the area.
After being sold in November of 2017 to new owner Republic Properties Corporation, DF Multifamily began managing this apartment community and moving forward has plans that will significantly broaden the community's appeal with an upcoming renovation. "The community surrounding the Courts of Yorkshire Downs has always been one of the most desired living areas since the apartment community was built in 1987. Now, with an eye on the horizon of a $350,000 renovation scheduled to be completed in late 2019, we hope to make it one the most sought after living communities in the region", commented Kim Stutt, Regional Property Manager at DF Multifamily. Through this renovation, the core focus will be to enhance the community appeal for its residents while also achieving improvements in water conservation and energy efficiency. "This community has tremendous amenities and a location that is surrounded by the best schools in the state of Virginia," continued Stutt. "We have managed thousands of apartment communities in our 80-year history and the Courts of Yorkshire downs is truly a hidden gem."
The Courts of Yorkshire Downs is located in close proximity to Peninsula Town Center, Patrick Henry Mall and several "A" rated schools. It has always been an ideal community for working professionals and families alike. The renovation investment by its owners will push forward significant improvements to the apartments and the surrounding amenities and also increase occupancy and return on investment. "This renovation will be good for the community, the residents and the owners and, when everyone benefits, it creates a solid foundation for the future," added Stutt.
Founded in 1938, Drucker + Falk is a full service real estate and investment firm, managing a diverse portfolio of nearly 30,000 apartments in nine states and operates three divisions, DF Multifamily, DF Commercial and DF Ventures. Collectively, the company specializes in multifamily management of all asset types including new development and construction consultation as well as lease ups, restoration and upscale multifamily conversions and commercial brokerage services. The company also provides services for asset repositioning and stabilization of challenging properties, mixed use management and due diligence. To obtain more information visit http://www.druckerandfalk.com. 
For more information on Courts of Yorkshire Downs, visit https://www.yorkshiredownsapts.com/ or call (757) 766-0110.