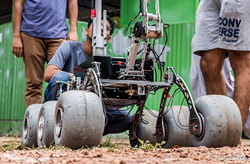 BENICIA, Calif. (PRWEB) February 07, 2018
Mars Rover Manipal is a multi-disciplinary student team from Manipal University striving to design and build next generation rover for exploration of extraterrestrial environment and applications of robotics in interplanetary missions.
Since inception, the team has provided a platform to aspiring engineering students by pushing them beyond the theoretical knowledge they gain in classrooms to inculcate technical and practical skills. The team is also working on research related to the role of a rover in the field of space exploration and future Mars missions. The team is striving to explore and contribute to the field of robotics and its applications in interplanetary missions. Initiated in October 2014, Mars Rover Manipal strives to achieve excellence while staying true to its motto 'Design to Discover'.
The team participates in the annual University Rover Challenge (URC) organized by Mars Society, USA. In URC 2017, the team finished 8th out of 82 teams across the globe and stood 1st among the Asian teams. In January 2018 Mars Rover Manipal took 1st place at Indian Rover Challenge, 2018 edging out teams from Bangladesh and the rest of India. A major factor in the teams success has been the incorporation of special All-Terrain wheels in the design of the Manipal rover. "The Manipal University Rover team has been incorporating the WheelEEZ(R) Low Pressure Balloon wheels into its rover designs for several years now with very good competition results," stated Otto Werlin of Wheeleez, Inc. "Other wheel types were tried and tested but none had all of the characteristics in terms of shock dampening, traction and flotation on soft terrain that team engineers required."
"We are proud to announce that WheelEEZ(R) and Mouser Electronics have elected to continue as the teams title sponsors for the new season," a team spokesperson announced.
Wheeleez, Inc. is the North American Importer/Distributor of WheelEEZ(R) brand Balloon wheels and ready-to-roll cart products. Beach enthusiasts and vacationers interested in learning more about WheelEEZ(R) products can visit http://www.wheeleez.com. The special Balloon wheels are also used by a wide variety of industries to move heavy, awkward loads over difficult, challenging terrain. See how well they work here: https://www.youtube.com/watch?v=xTYdniGqob8
Contact information:
Otto Werlin
Wheeleez, Inc.
707-751-3999
otto(at)wheeleez(dot)com
http://www.wheeleez.com