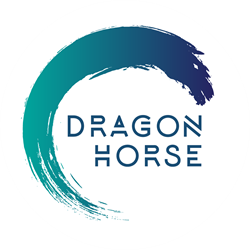 This model, designing an omni-channel marketing strategy around a well-honed business strategy, emerged out of the realization that marketing will forever fall flat if the business analytics and strategy aren't truly understood.
NAPLES, Fla. (PRWEB) February 13, 2018
Each of the three Dragon Horse managing partners, all prior business owners, bring a rare combination of creative, business and visionary talents. They form a dynamic team of experienced professionals, building solid foundations for the brands of tomorrow.
Patrick Blake Renda, Dragon Horse Chief Global Strategist, has an extensive professional career winning numerous accolades and awards in TV media, institutional investing and the retail industry. Mr. Renda was a key part of the Emmy-winning production team for the multi-award-winning nationally syndicated sports television show, Roggin's Heroes and NBC Sports' Sports Bowl. Mr. Renda was ranked as a top institutional investor by Institutional Investor Magazine and has won several commerce and industry awards as an executive for a rapidly growing, retail skincare company. Mr. Renda has been the creator and co-host of several regional weekly, lifestyle radio shows.
Dragon Horse President, Julie Koester, has been a professional researcher/copywriter for over 20 years. As a former professor of psychology, she brings to Dragon Horse an extraordinary understanding of how people think and how to meet their needs. Ms. Koester has spent 15 years in retail as an owner/operator and has been a consultant to emerging companies to help them best meet the needs of their clients, from a physical layout vantage, inventory selection and client communication strategies. Following the successful launch and eventual sale of her own unique retail store, Ms. Koester became the founding board chair for what would become the Golisano Children's Museum of Naples. During her 11-year tenure, the most important job was successfully communicating the message. She directed its multi-year capital campaign to successfully raise $27 million, overseeing all marketing associated with fundraising and the museums eventual launch. Ms. Koester is the creator and co-host of a regional weekly, lifestyle radio show and a weekly lifestyle columnist for an international web-based news site.
Dragon Horse Founders and Managing Partners Julie Koester and Patrick Blake Renda are proud to have recently welcomed Managing Partner and Chief Creative Officer, Edward Clay. Mr. Clay brings to Dragon Horse over two decades of award-winning television and live event production and directing, ranging from documenting international humanitarian mission work to multi-screen conference presentations all over the U.S. He has produced inspiring and motivational fundraising videos and TV shows for non-profit organizations throughout the world, as well as producing successful television ad campaigns for area businesses. In addition, as the immediate past Director of Operations of the Naples International Film Festival and a 30-year local resident, Mr. Clay has a core understanding of what the Southwest Florida clientele both expect and demand for their money.
For more information about Dragon Horse, please call 305-306-3992, visit us online at http://www.DragonHorseAgency.com, or email info@dragonhorsemedia.com.