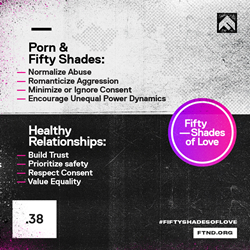 "In a time where sexual consent, harassment, and assault are at the forefront of society's conversations, it's unsettling that the 'Fifty Shades of Grey' series is championed as empowering when its protagonist is living a #MeToo experience," said Executive Director Natale McAneney
SALT LAKE CITY (PRWEB) February 07, 2018
Fight the New Drug announced the launch of #FiftyShadesOfLove, a week-long awareness campaign that addresses how the "Fifty Shades of Grey" series normalizes abuse. The #FiftyShadesOfLove campaign encourages individuals to take a stand against abuse in all forms and fight for healthy relationships that respect consent, promote equality, and are devoid of physical and verbal aggression.
Notable elements of the #FiftyShadesOfLove campaign include a quiz where readers attempt to identify whether a situation is from a "Fifty Shades of Grey" novel or a #MeToo experience, and a 2014 study from Michigan State University that found "strong correlations between health risks in women's lives—including violence victimization—and consumption of 'Fifty Shades,' a fiction series that portrays violence against women."
Campaign participants are encouraged to fight for love by speaking out against abuse and supporting victims of domestic violence via the #50DollarsNot50Shades fundraising campaign led by London Abused Women's Centre, the National Center on Sexual Exploitation, Culture Reframed, and Collective Shout.
"In a time where sexual consent, harassment, and assault are at the forefront of society's conversations, it's unsettling that the 'Fifty Shades of Grey' series is championed as empowering when its protagonist is living a #MeToo experience," said Natale McAneney, Executive Director of Fight the New Drug. "Selling violence, inequality, and manipulation as romance doesn't change the fact that it's still abuse."
For more information about the #FiftyShadesOfLove campaign, visit fiftyshadesoflove.org.
About Fight the New Drug
Established in 2009, Fight the New Drug is a global movement that raises awareness about sexual exploitation using science, facts, and personal accounts.