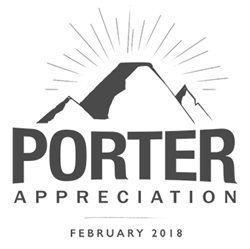 BOSTON (PRWEB) February 05, 2018
Thomson Safaris announced Porter Appreciation Week today, a weeklong campaign celebrating Mount Kilimanjaro's local workers from Feb. 5 to Feb. 12.
Some 15,000 Tanzanian porters work with countless tourists on Mount Kilimanjaro. These men and women carry the food, equipment and luggage necessary for a crew to summit the mountain. Every individual person trekking the mountain needs about six porters to assist.
Thomson Safaris enjoys a close partnership with roughly 750 porters. They are the key behind every successful summit, and their kind, persistent support has won countless friendships with trekkers. This week, Thomson Safaris shares their individual stories, obstacles and thank yous from those who were overwhelmed by their support.
Porters deserve support in return. Kilimanjaro tourism provides stable work and income to thousands of individuals with few other opportunities. Many Tanzanians move to the Kilimanjaro region specifically to work as porters. The great majority of them are farmers living off the land. Porter wages give them a chance to provide their families with the basics.
Surrounding communities also value the industry. A report from The World Bank partially credits Kilimanjaro tourism for the area's school enrollment rate (100 percent) and adult literacy rate (85 percent) both of which are the highest in the country.
"For every inspiring story about a trekker climbing Kilimanjaro, about half a dozen porters made that happen," says Thomson Safaris co-founder Judi Wineland. "Their stories deserve to be shared, too. They deserve appreciation, fair treatment and steady work. As a responsible tour operator, we really want to give that to them."
About Thomson Safaris
Thomson Safaris sets the standard for sustainable and socially responsible travel in East Africa. It is a founding member of the Kilimanjaro Porters Assistance Project – an NGO advocating for acceptable porter treatment. The Tanzania Tourism Board has given Thomson Safaris Humanitarian of the Year, Conservation and Tour Operator of the Year awards. It is a 3-time Travel + Leisure award winner, a 4-time Condé Nast award winner, a 2-time National Geographic Best Adventure Travel Company on Earth winner.