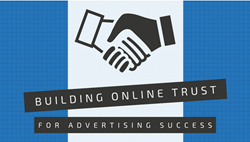 Maintaining credibility and building trust is now more important than ever before to online success.
AUSTIN, Texas (PRWEB) March 07, 2018
With the proliferation of websites on the Internet, one may wonder how a fledging media company succeed, especially in the realm of online advertising. After all, today, online and mobile advertising presents a number of challenges, including fraud, which potentially loses billions of dollars for companies each year. This means maintaining credibility and building trust is now more important than ever before to online success.
Magnificent Marketing, an Austin-based content marketing agency, has teamed up with media consultant and publishing expert, Bo Sacks of Precision Media Group, to present a new webinar on the future of online advertising and how to build trust in this environment.
The webinar, available now, focuses on four media companies that are doing things right and touches on the following topics:
-Bots and artificial intelligence
-The importance of trust
-Building an audience
-Going niche
-And more.
The webinar is available now on Magnificent's YouTube channel and, with an accompanying blog, on magnificent.com.
About Magnificent Marketing:
Magnificent Marketing is your full-service content marketing agency that will take care of all your marketing needs so that you can concentrate on the core duties needed to manage and grow your business.
Their objective is to generate leads that turn into customers while focusing on expanding the visibility of your company and brand, and positioning you to be "top of mind" for future potential clients.
In order to achieve this, they draw on their experience and belief that a mixture of traditional marketing techniques combined with modern marketing tools will yield the best results. In other words, they blend old and new school marketing to create the best school of thought.
About Bo Sacks:
A veteran of the printing/publishing industry since 1970, Bob Sacks was always an innovator.
After several years in the alternative press publishing newspapers in New York and Tucson, Az., he went on to become one of the founding fathers of High Times Magazine.
Since then Bob has held positions that include Publisher, Editor, Freelance Writer, Director of Manufacturing and Distribution, Senior Sales Manager, Circulator, Chief of Operations, Pressman, Cameraman, Lecturer, and Developer of web site companies.
Today Bob's firm, Precision Media Group, does private consulting and publishes "Heard on the Web: Media Intelligence", a daily e-newsletter that delivers pertinent industry news to a diverse, worldwide, publishing community of over 11,750 media industry leaders. It is the longest running e-newsletter in the world.
Bob Sacks is a columnist and lecturer who regularly electrifies the media and marketing industry with the good and bad news about what he calls "El-CID" or Electronically Coordinated Information Distribution. His fun and extremely informative presentation covers the technological past, present and future possibilities for publishing at the digital edge.