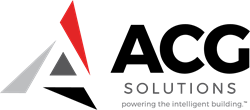 ATLANTA (PRWEB) February 05, 2018
Ansley Communications, the leading provider of state-of-the-art information technology (IT), security and telecommunications solutions, today announced it has rebranded as ACG Solutions (ACG). The unveiling of the new brand and accompanying tagline, "powering the intelligent building™, more accurately reflects the company's diversified portfolio and expanded consulting services to help clients architect, deploy and manage intelligent buildings.
"ACG now offers technologies and expertise to architect solutions that address each client's digital and physical assets necessary to drive operational efficiencies, improve visibility to reduce risk, and ultimately, enable business success," said Laura Faught, President and Chief Operations Officer, ACG Solutions. "We're excited to enter 2018 uniquely positioned to reinforce our stronger value proposition to the marketplace."
Protect, connect, and manage the intelligent building
As a single-source supplier of solutions for the "Internet of Things" (IoT), ACG's value proposition: PROTECT: protection of your intelligent building from physical and cyber threats. CONNECT: connectivity is the backbone of every intelligent building. MANAGE: proactive management of the intelligent building technologies.
About ACG Solutions
ACG Solutions serves all industries with a complete portfolio of information technology, security and telecommunications solutions for powering the intelligent building™.
For more information, please visit http://www.acg-solutions.com.
Facebook: https://www.facebook.com/ACGIntelligentSolutions/
LinkedIn: https://www.linkedin.com/company/acgsolutions/
Twitter: https://twitter.com/ACGSolution