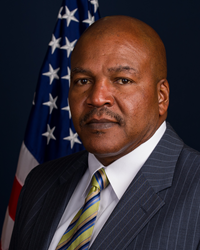 I look forward to bringing my expertise to private security to enhance risk management and overall security for our clients.
PARSIPPANY, N.J. (PRWEB) February 07, 2018
SOS Security LLC, the nation's fifth largest privately-owned security company, is pleased to announce that Charles E. Smith has joined its Mid-Atlantic Regional leadership team to lead security operations in the Northern Virginia region.
Smith will lead security operations for various high-profile programs, working closely with local government, broadcast, residential, commercial and education clients.
Before joining SOS Security, Smith spent almost 30 years with the Bureau of Alcohol, Tobacco, Firearms and Explosives. Before retiring, he served as Executive Assistant to the Director, Office of Field Operations, and key advisor to the Executive Leadership. While in this role, he worked with top officials in the Department of Justice, Department of Homeland Security, and other Executive Branch agencies on broad national policies and operational guidelines for Federal law enforcement initiatives, as promoted by the President, the Attorney General, and Congressional leaders.
"We are excited to have Charlie on our team," said John "J.J." Frazer, Senior Vice President and Regional Director, Mid-Atlantic, "He brings exceptional expertise to SOS Security and I am looking forward to working with him to enhance security operations and services."
Smith began his ATF career as a street agent in New Orleans and quickly rose into leadership positions such as Assistant Special Agent in Charge for Dallas and Seattle Field Divisions, Team Leader, Special Response Team 3 in Dallas, and Group Supervisor of the High Intensity Drug Trafficking Area in New Orleans.
"I am thrilled to be part of the SOS Security team, and look forward to working with clients to deliver high-quality security programs," said Smith
Smith has a Bachelor in Sociology and an Associate Degree in Criminal Justice from Southern University. He received numerous awards and commendations during his law enforcement career, including being the first non-DEA employee to receive the Medal of Valor by the Drug Enforcement Administration.
About SOS Security
Founded in 1969, SOS Security is one of the largest privately-owned security companies in the U.S. with more than 10,000 security professionals working domestically and around the world through foreign regional joint ventures and strategic partnerships. A proven leader in the Security and Protective Services Industry, SOS Security is headquartered in Parsippany, NJ and has offices throughout the United States and resources servicing over 80 countries.
SOS Security's business lines include Executive/Close Protection (through subsidiary AS Solution) for Fortune 1000 corporate executives and high-profile individuals around the world; Investigative, Management and Consulting Services; as well as Fire/ Life Safety Services. In addition, SOS Security provides highly qualified and trained security officers for clients in various industries such as: Technology/Communications; Government; Embassies and Consulates; Public Utilities; Education Facilities/Campus Security; Hospitality/Leisure/Hotels, Retail/Shopping Centers; Media/Entertainment; Commercial/ Residential Real Estate; Pharmaceutical/Healthcare/Hospitals; Manufacturing/Warehouse/Distribution; and Financial/Banking.
Learn more about SOS Security's capabilities and careers at http://www.sossecurity.com.