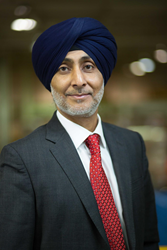 "We are confident Gurinder will be instrumental in our ongoing mission to overhaul and centralize the Clinical and Ancillary Supply Chain in Europe and across the world." — Joanne Santomauro, Chief Executive Officer, Ancillare, LP
HORSHAM, Pa. (PRWEB) February 06, 2018
Global Clinical and Ancillary Supply Chain leader Ancillare, LP, the only organization exclusively serving the end-to-end Clinical and Ancillary Supply Chain Management needs of large- and middle-market pharmaceutical, biotechnology, and medical device companies, as well as contract and medical research organizations, today announced the appointment of Gurinder S. Shinmar as Executive Vice President, Global Clinical Development.
Shinmar, who most recently served in executive leadership capacities at AmerisourceBergen subsidiary World Courier Ltd., brings 25 years' experience in Clinical Supply Chain Management and pharmaceutical services both in the United States and the United Kingdom. Among his strategic focus areas will be championing the Ancillare Turn-Key Operation (A-TKO™) model as a solution for study sponsors and CROs with complex, global clinical trials. He'll also work to enable the A-TKO™ model's rapid implementation at earlier stages of development programs (i.e., alongside protocol design) to achieve greater transparency, efficiencies, and cost-savings for sponsors throughout the therapy development lifecycle.
"Gurinder brings a wealth of industry experience-strong leadership, operational excellence, and strategic vision-all qualities which, we believe, align squarely with [Ancillare's] core values," said Joanne Santomauro, Chief Executive Officer, Ancillare. "We are confident Gurinder will be instrumental in our ongoing mission to overhaul and centralize the Clinical and Ancillary Supply Chain in Europe and across the world."
Shinmar will head up Ancillare's Master Depot in Milton Keynes, United Kingdom, and drive global expansion in the Asia-Pacific region, Europe, the Middle East, and Africa. He holds an MBA from Imperial College, London, where he specialized in Biopharmaceutical and Health Technology Sector. He earned his pharmacy degree from King's College, University of London.
The acquisition of Shinmar by Ancillare follows the company's recent award of a Wholesale Distribution Authorization (WDA) for Human use by the United Kingdom Medicines and Healthcare Products Regulatory Agency (MHRA), which it announced January 30.
About Ancillare, LP
Ancillare is the only organization of its kind with an exclusive focus on the global clinical and ancillary supply chain. Ancillare arms sponsors of global clinical trials with a customized, end-to-end Ancillare Supply Plan, enabling developers of new therapies to optimize their clinical study supply chains using streamlined processes, extensive global buying power, a vast depot network and proven teams of clinical, procurement, operations, logistics and regulatory experts. Ancillare's Turn-Key Operations (A-TKO™) model embraces the complexities and globalization of the clinical and ancillary supply chain by reducing both the overall cost and cycle time of clinical trials, and greatly improving operational efficiency across all levels of the value chain.
Ancillare has supported more than 1,500 clinical trials across 80,000 clinical sites over 100 countries with master depots in United States, United Kingdom, and Singapore, and strategic depots in Argentina, Australia, Brazil, Canada, Chile, China, Colombia, India, Israel, Japan, Korea, Mexico, Panama, Peru, Philippines, Russia, South Africa, Taiwan, and Ukraine. To learn more, visit http://www.Ancillare.com.