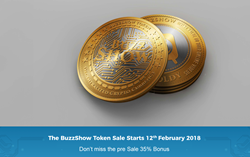 Buzzshow is meant to revolutionize video social media network and give economic value and freedom to online video creators and other users, by giving back the rewards, incentives and control. We are providing a real utility with full cycle economical element well thought out
AMSTERDAM (PRWEB) February 06, 2018
Entertainment and educational videos from various sources generate billions of views every day. Given the increasing preference for videos across various categories, the Buzzshow Network has disclosed its intention to tokenize its usage. The Buzzshow ICO Token Sale will be launched as part of the major steps towards providing an incentive for the creation and use of videos on the 12th February, 2018.
"Buzzshow is a developed platform that has been conceptualized for over two years. The Buzzshow network is alpha-tested with over 15,000 users and 2,000 channels, with millions of searchable videos" said Offer Kohen, the founder of the Buzzshow Network. "Buzzshow is meant to revolutionize video social media network and give economic value and freedom to online video creators and other users, by giving back the rewards, incentives and control. We are providing a real utility with full cycle economical element well thought out; launching the BuzzShow ICO token sales will enable the platform to become truly reward-based," he added.
The online video industry today is a multi-billion dollar one which is controlled by a few large corporations who own social media channels and online video sharing platforms. The growth of these platforms is driven by user-generated contents which attracts advertisements and visits from a wide ranging audience. Platforms like YouTube and Facebook generate huge revenues from the activities of online video creators and viewers with little or nothing going back to these users as rewards.
Buzzshow intends to address this via a decentralized approach to the online video industry that will enable users to receive economic gains for every upload, view and share based on a proof of contribution mechanism. In addition, advertisers can choose the channels where they want their ads to be placed instead of relying on a random placement and users will have the option to avoid watching advertisements. They can pay for premium content or subscription base to avoid watching any advertising, with the Buzzshow Token. The Buzzshow Network is set to base the future releases of its platform on third generation blockchain technology which will eliminate transaction fees and offer security which is crucial for a social media network.
With Buzzshow, online video users earn "Goldies," the native tokens of the Buzzshow platform. The Buzzshow Tokens are an ERC20 tokens based on the Ethereum platform. Goldies earned from the Buzzshow platform can be exchanged for Ethereum tokens and then other cryptocurrencies via external exchanges. Following planned future developments and listing on various exchanges, BuzzShow Tokens ( GLDY) will be directly exchanged for other cryptocurrencies without going through Ethereum.
BuzzShow upcoming Initial Coin Offering (ICO) or token sale is planned to mark the release of the developed and tested Buzzshow platform to the market. The Buzzshow Network's approach is a deviation from the majority of the token sale at present time, where funds are raised for development of a concept that still need to be realized.
The Pre-ICO begins on 12th February 2018 at 12:00 PM CET and runs till 18th of February 2018 at 23.59:00 PM CET while the BUZZSHOW ICO Token Sale will start at 05th March 2018 and will end at April 4th 2018 at 11.59:00 AM CET These events will be preceded by bounty and signature campaigns. BuzzShow tokens will be valued at $0.25 however at this time of presale, users can acquire a 35% bonus for early contribution. In regards to the BuzzShow token total supply, 150,000,000 BuzzShow Tokens will be created, 93,000,000 (62% of Total supply ) will be sold during the BuzzShow ICO phase. Any Unsold BuzzShow Tokens will be transferred to be sold on Buzzshow developed platform on an on going base.
BuzzShow is getting high scores in various ICO listing sites such as https://foundico.com/ico/buzzshow.html 
For further information and participation visit http://www.buzzshow.com/tokensale
Contact
Name: Tamara Wasserman
Email: media(at)buzzshow.com