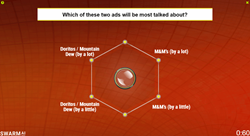 With Swarm AI technology, we can more accurately predict how populations will react to media than old-school methods like polls or focus groups.
SAN FRANCISCO (PRWEB) February 04, 2018
Unanimous AI has often made headlines by using its Swarm AI technology to accurately forecast the outcome of events like the Oscars and the Kentucky Derby Superfecta. Last year, the Silicon Valley company correctly predicted TIME's Person of the Year for the 2nd consecutive year, and the exact final score of Super Bowl 51. But this year, Unanimous has also turned the power of its predictive intelligence tool onto the advertisements that will accompany today's big game.
Swarm AI technology works by combining the wisdom, intuition, and intelligence of human populations with AI algorithms to create optimized insights. For the Super Bowl advertising study, researchers used a special framework inspired by Northwestern University's Kellogg School of Management ADPLAN rating system. The system was used to compare the effectiveness of advertisements that will be shown during the Super Bowl, assessing them on six criteria (Attention, Distinction, Positioning, Linkage, Amplification and Net Equity) to determine their overall success. While researchers at Unanimous say their technology foresees a close game between the Patriots and Eagles, their findings reveal a clear winner for the best advertisement of the day.
Doritos and Mountain Dew teamed up for "Doritos Blaze vs Mt. Dew Ice," to announce the arrival of two bold new flavors. The 60-second spot features Oscar winner Morgan Freeman and Peter Dinklage lip-synching to Busta Rhymes and Missy Elliot in an epic battle accompanied by the hashtags #spitfire and #icecold. The combination of these four legendary performers was enough to carry "Doritos Blaze vs Mt. Dew Ice" past stiff competition from M&Ms and Pringles to be deemed "Most Talked About." The chip and soda collaboration was given an overall grade of "A" by the swarm, and received high marks across the ADPLAN criteria.
"The concept of swarm intelligence is incredibly cool," said Margaret Johnson, Chief Creative Officer of Goodby Silverstein& Partners, the agency behind the winning commercial. "But I'll really be impressed if it turns out the AI was able to factor in the difference between mental state of a group of NFL fans participating in a mid-week swarm and that of a nation of chip-stuffed, beer-infused football maniacs on game day."
"With Swarm AI technology, we can more accurately predict how populations will react to media than old-school methods like polls or focus groups," says Dr. Louis Rosenberg, CEO of Unanimous AI. "And not only can Swarm AI generate more insightful results, the process is faster, which is perfect for something as time-sensitive as Super Bowl ads."
About Unanimous AI
Unanimous AI is a Silicon Valley company that has pioneered Swarm AI® technology, a new form of AI that combines real-time human insights and AI algorithms modeled after natural swarms. Unanimous has generated an impressive track record of predictions, forecasts and insights. The company's technology has outperformed traditional AI systems and human experts in many high-profile challenges. Swarm AI was recognized among Tech Republic's 6 most exciting AI advances and among the Top 10 Tech Trends Transforming Humanity by Peter Diamandis. For more about Unanimous A.I., visit http://unanimous.ai
What is Swarm Intelligence?
Dr. Louis Rosenberg takes TED stage to explain
Swarm AI Predicted The Kentucky Derby
Newsweek covered it here
How Swarm AI Works
Read the Academic Paper Here
Swarm Insight, Swarm and Swarm A.I. are trademarks of Unanimous A.I. and may be registered in the United States and/or other countries. Any other trademarks or registered trademarks mentioned in this release are the intellectual property of their respective owners.
###