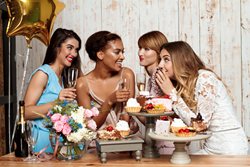 What started out as a sitcom joke has become an annual celebration of female empowerment for women across the globe because our female friendships are as important as our romantic ones, and they deserve a special day to be celebrated.
LOS ANGELES (PRWEB) February 05, 2018
While Valentine's Day has been celebrated for centuries, Galentine's Day is just a few years old, but it's becoming an increasingly popular holiday. California Flower Mall petalers will open all night on Galentine's Day – February 13th – with thousands of fresh flower arrangements, bouquets, cut flowers and plant choices for women to use to decorate and celebrate their gal pals and for traditional Valentine's Day flowers shoppers.
Rather than taking the place of V-Day, Galentine's Day is celebrated the day before so that women with significant others can still have V-Day fun with their romantic partners. Interest in and searches for Galentine's Day are increasing, according to Google Trends. Data from Pinterest reveals that searches for "Galentine's Day Ideas" have seen a huge 1780 percent increase. The concept was coined on the NBC sitcom, Parks and Recreation, in 2010. Amy Poehler's character Leslie Knope explains: "Oh, it's only the best day of the year. Every February 13th, my lady friends and I leave our husbands and our boyfriends at home, and we just come and kick it, breakfast-style. Ladies celebrating ladies."
Vani Trogolo, spokesperson for California Flower Mall says, "What started out as a sitcom joke has become an annual celebration of female empowerment for women across the globe because our female friendships are as important as our romantic ones, and they deserve a special day to be celebrated."
"Galentine's is the day to get your girlfriends together, share the love and reflect on achievements – it's an important celebration for millennial women," says Ariana Gomez, LA Fashion District marketing and pr manager. "2018 is definitely the year of the strong, courageous female. I think this is why so many women are connecting with Galentine's Day," Trogolo believes. She says fresh flowers are certain to make your soul sisters feel special this Galentine's Day - there are many options like:

Visit CFM before or after work on February 13 to select Galentine's Day flowers
Host a gal pal breakfast at CFM's QQ Café and let guests pick their own flower bouquet
Meet for drinks and receive Galentine's Day flowers from a CFM flower delivery
About California Flower Mall
The California Flower Mall, located at 825 San Pedro Street with parking at the 824 San Julian Street entrance, is one of the largest DIY wholesale flower markets in the expanding eight block Downtown LA Flower District trade community -- the largest concentration of wholesale flower markets and flower businesses in the U.S. It is located in the LA Fashion District Business Improvement District. CFM customer amenities include an onsite ATM, customer restrooms, on-site parking, and a cafe with patio dining. There is no admission fee or membership badge required for the trade or public to shop at CFM. CFM is open 7 days a week and most holidays. For flower prices and availability contact CFM flower vendors directly at http://californiaflowermall.com/prices-and-availability/