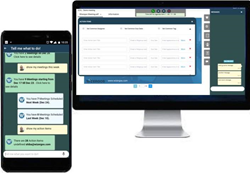 Shibabrata Mondal, CEO of Wizergos said, "Knowledge workers are overburdened with organizing, retrieving, sharing information and tracking tasks and progress. Wizergos will help in automating all these, so that now the team can focus on the intellectually challenging core work they are experts in."
BANGALORE, India (PRWEB) February 06, 2018
Bangalore based startup, Wizergos launched a SAAS based Meetings and Action Item Management software. The software is designed from ground up with the intention to make meeting management a piece of cake. It is widely acknowledged that meetings are a used and abused tool in enterprises from the past several years and Wizergos is looking to revolutionize this.
Wizergos comes with an array of powerful features including integration with Office 365 and Google Suite, smart scheduling, agenda tracking and management, action item management, decision management, automated minutes of meeting and reporting.
Wizergos also supports advanced speech recognition feature for easily capturing meeting minutes and action items. It's iOS and Android mobile APPs with voice-based chatbot makes meeting data accessible from anywhere, at any time.
Wizergos counts TATA among its early adopters. It is currently in early revenue stage and is gaining adoption in retail, construction, manufacturing, and financial sectors. Wizergos is now looking to expand overseas into the US and European Markets.
When asked about the key benefit organizations will see when using Wizergos Meeting and Action Item Management Software, Shibabrata Mondal, CEO of Wizergos said, "Today in enterprises, smart knowledge workers are overburdened with the time-consuming work of organizing, retrieving, sharing information and tracking tasks and progress. Wizergos will lend a helping hand in automating all these so that the team can now focus on the intellectually challenging core work that they are the experts in." About return on investment he added, "When we automate and save x% time for knowledge workers the returns are not just that x%, its often 10x and more. Because, when teams can focus on the core work the returns for organizations will be will be non-linear."
About Wizergos: Wizergos is a privately held company headquartered out of Bangalore, India. Wizergos started in October 2015, and provides Software solutions and services to its clients in the area of productivity, and team management.